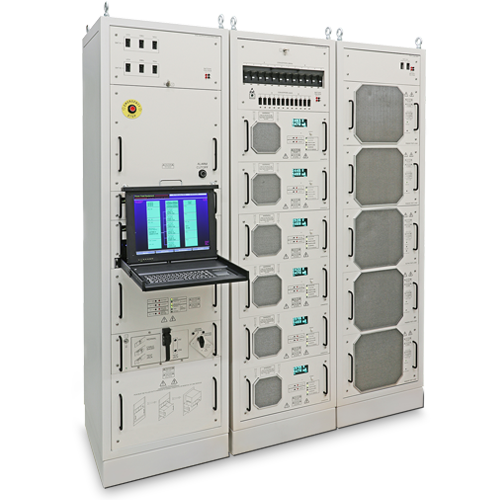 Series PFE (HV)
6, 9, 12, 15kV Versions Available, each @ 1.5A
Full Array of Dry Contact Closures for Remote Station Alarm Monitoring
Fully-Programmable Electronic Test Load Bay Capable of Dissipating 22.5kW
Electroding Functions Provided
3-Bay Design. Rear Doors Provided for Safety Interlocking
Built-in Data Logger Functions Capture Data Every 10ms
High Voltage Power Feed Equipment (PFE)
Spellman High Voltage Electronics, the leading independent supplier of Power Feed Equipment to the Telecom industry, has developed a new generation of High Voltage Power Feed Equipment, (HVPFE). This HVPFE is targeted at the emerging requirements for longer submarine cable installations, while addressing underlying issues such as lower cost, smaller foot print, and easier operation.
Key features:
Redundancy is provided for the converters (n+1)
Simplified sliding drawers for PFE open, grounding, test modes
Redundancy is provided for the LCU. In case of failure of LCU, the PFE will continue to operate normally
LCU contains pull-out 17˝ LCD screen, keyboard, mouse pad and CPU
Simplified keylock scheme ensures safety of operating personnel
Highly visible Vacuum Fluorescent Display (VFD) on the output module (OMU) and each converter displays voltage, current and modes of operation
Unique protective "trap door" barrier allows a converter to be replaced safely while the PFE is still powering the cable

(Ref. 128119-001 REV. B)
Output Voltage:
18kV maximum rated continuous operation, up to 15kV nominal
Output Current:
1.8A maximum rated continuous operation, 1.5A nominal
Output Power:
Up to 22.5kW for n+1 redundancy
Input Voltage:
-40.5Vdc to -60Vdc
Programming:
Full-featured programming, monitoring, alarms, diagnostics, and ramping functions provided via LCU module.
Monitoring:
Full local and remote monitoring via Ethernet connection.
Current Ripple:
10mA peak to peak of maximum output
Voltage Ripple:
0.2% peak to peak of maximum output
Current Stability:
0.1% (constant load) after a 4 hour warm up
Operating Temperature:
5 to 40°C operating
Storage Temperature:
-40 to +85°C storage
Humidity:
5% to 85%, non-condensing
Cooling:
Forced Air
Dimensions: (per bay)
86.68"H x 23.64"W x 23.64"D (2200mm x 600mm x 600mm)
Weight: (per bay)
900 pounds (335.9kg)
Regulatory Approvals:
Compliant to EEC EMC Directive. Compliant to EEC Low Voltage Directive. GR-63-CORE, GR-189-CORE, ETSI ETS 300 019, ETS 300 118, ETS 300 127, ETSI EN 300 132-2, ETSI EN 300 386, EN 60950. Safety IEC 60950-1 E148969- (A5) (X4146, X4147, X4148, X4149, X4750)
DIMENSIONS: in.[mm]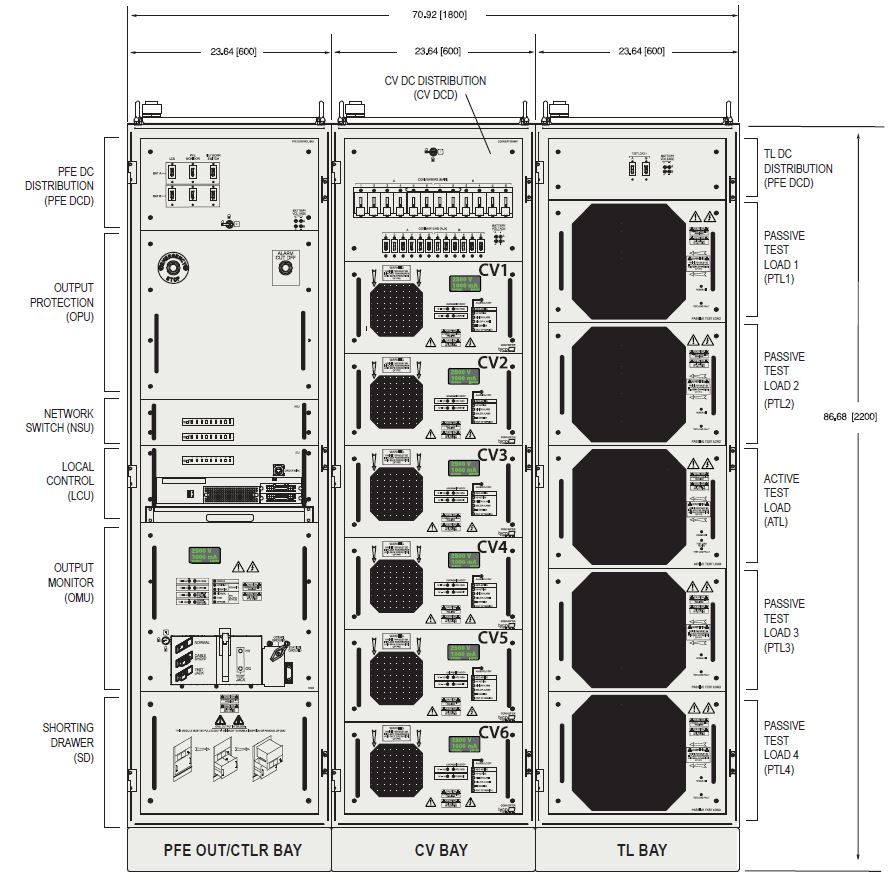 Note: All specifications are subject to change without notice. Please consult the PDF version of this datasheet for the most up-to-date revision.