High Voltage Newsletter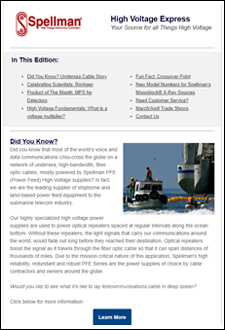 Spellman's sales/marketing team has been sending out a high voltage newsletter every two months to customers and prospects around the world. We cover many general topics in the newsletter, and we try to focus each issue on one of our market segments. Each issue includes a link to a technical paper on our website, a link to a video or other interesting item on our website, some "Fun Facts (i.e. trivia), and a scientist spotlight.
Archived High Voltage Newsletters
For the latest High Voltage product and news information subscribe below.