Spellman High Voltage Electronics Design Process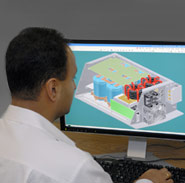 The essence of every successful high voltage power supply is the right design and execution for the required application. This starts with gaining a complete understanding of our customers unique high voltage requirements. Spellman's quality policy sums it up quite simply, "To understand and provide what our customers need". Developing a good technical rapport with our customers is the essential first step in our design process. Doing this is crucial in obtaining a clear common definition of the requirements a new power supply must meet.
These requirements and specifications are reviewed and an appropriate multi-disciplinary project team is assembled. Each project is headed by a designated Project Engineer, the cohesive force that orchestrates the numerous project tasks and matches them to the unique skills of the team. Engineering team members may include: electrical engineers, mechanical engineers, mechanical designers, printed circuit board designers, digital design engineers, software engineers, electrical technicians, test engineers and engineering planners. Additional team members from outside the engineering group may include: quality engineers, industrial engineers, test department managers, production managers, purchasing, production planning and material managers, and members of the sales and marketing staff.
Weekly program meetings are held allowing team members to jointly review project progress. This unique team approach allows various uniquely skilled individuals to contribute to the program as a whole, while assuring that timely progress and project schedules are met.
Spellman draws upon its vast high voltage design and packaging experience at the start of each new program. A senior level multi-disciplinary team reviews possible new design approaches from all aspects to assure compliance to requisite mechanical and electrical specifications. Once a design approach is chosen, the next step in the Spellman design process is obtaining hardware and software validation to support the selected design.
Electrical interface, control, inverter and output section designs are modeled on software workstation simulations that benchmarking their performance under a gamut of adverse operating conditions to probe the limits of operational design margins.
Mechanical design aspects are analyzed utilizing 3D modeling software to assure durability along with ease of fabrication and assembly. CAD based finite element analysis and thermal modeling software is used to identify the mechanical limits and inherent margins of a new design.
Limited run hardware is fabricated to "hard validate" the mechanical and electrical specifications of the design. Compliance to each and every specification line item is verified; assuring the design meets all performance requirements.
After these initial design checkouts are completed, the potential new product is then subjected to our Engineering Design Review Board. This board is comprised of original team members, the VP of Engineering, select senior staff design engineers, applicable engineering departmental managers, along with members of our Production and Quality departments. An exhaustive review of all aspects of the new design is conducted. Details pertaining to the electrical and mechanical design integrity; the selection of materials, components, their deratings and margins along with design layout and isolation schemes are carefully scrutinized by the members of this board. Any and all issues found in this design review are fed back to the team members to be addressed and incorporated. An independent assessment is done on each new design to assure that Spellman's proprietary design guidelines have been adhered to. Taking all these steps assures the cumulative knowledge of Spellman's engineering resources is inherent in each and every power supply we make.
The next phase of testing assures a robust and reliable product. Once a new design comes to life in the form of real hardware, Spellman's Component Reliability and Test Engineering group works closely with the project team to put it through its paces using an environmental stress screening chamber utilizing HALT and HASS protocols. This specialized test equipment allows Spellman engineers to environmentally stress a unit to find the limits of its design. Using programmable multi-axis vibration, heat and cold extremes an operational supply is stressed to find the weak points of the design. Analyzing, understanding and addressing these issues found results in a more robust and durable supply for our customers.
The next step in our testing process is a soak in our humidity chamber. Since insulation criteria are so important in a high voltage design, all aspects of environmental operation must be tested and validated. Spellman's humidity chamber testing assures our power supplies function as advertised throughout the range environmental specifications.
Lastly, new designs have hardware allocated and built to run in our long term and lifetime burn in fixtures. Units are setup up to run 24 hours a day, 7 days a week under a variety of operating conditions. These units will be monitored and systematic audits and performance tests will be run to assure compliance to all operational specifications.