Corporate and World Headquarters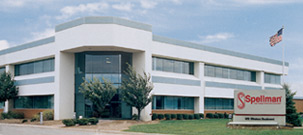 World Headquarters

Corporate, Manufacturing, Sales, Marketing and Service.
475 Wireless Blvd. Hauppauge, New York 11788
Phone: +1 631-630-3000
Fax: +1 631-435-1620
Spellman's world headquarters is located in a 9,290 m2 (100,000 ft2) building in Hauppauge, New York. Home to the industry's largest dedicated engineering staff, and world-class manufacturing facilities. Spellman has set the standard for excellence in design and manufacturing of high voltage power supplies.
A few Spellman features:
ISO 14001-2015 Certification
ISO 9001:2015 Certification
Detailed Quality System
ERP System including shop floor control and bar coding
Vertically Integrated Manufacturing
Environmental Stress Screening (ESS, Thermal & Vibrational) capabilities used in HALT and HASS
Partial Discharge and Environmental Test Capabilities
EMC Test Capabilities, CE Self Certification Capabilities
UL/ETL/CSA/TUV Safety Agency Approval on selected products
Sophisticated encapsulation and oil processing equipment
Domestic Sales Satellite offices in: Wisconsin and California