Spellman Mexico Production Center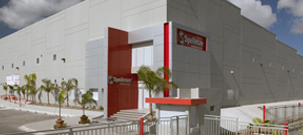 Spellman Mexico
Top Level and Sub Assembly Manufacturing.
Spellman de Mexico S.A. de C.V.
Avenida Chapultepec #101 Esquina Avenida Horizonte
Parque Industrial FINSA Oriente
87493, Matamoros, Tamaulipas
Phone: +52 868 150 1200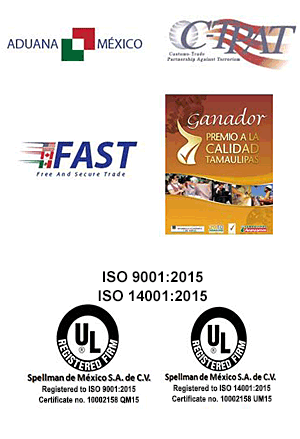 Spellman de Mexico S.A. de C.V. is a world class production facility located in the city of Matamoros, Tamaulipas, just across the Texas border from Brownsville, Texas. Winner of the Tamaulipas State Quality Award 2010, Spellman de Mexico is staffed by approximately 900 highly trained assemblers and technicians, and supervised by a dedicated manufacturing engineering staff fluent in English and Spanish. This site produces both finished products and critical sub-assemblies used at other Spellman facilities. Spellman de Mexico has full capability of all aspects of high voltage assembly, including high voltage transformers, printed circuit boards, cables and harnesses, and other High voltage assemblies. This operation replicates the same automated and proprietary encapsulation, oil fill and test methodologies that are used in Spellman's corporate production center located in Hauppauge, New York.
Our Global design and development centers have benefited greatly by the high quality, on time delivery, and cost savings obtained from this Mexican manufacturing site. Thanks to our investment in these facilities, Spellman continues to lead the high voltage industry in technology, quality, and in overall responsiveness to the competitive demands placed on us by our global customers.
Spellman de Mexico operations consists of 2 buildings.
The state-of-the-art Plant 3 encompasses 11,706 m2 (126,000 ft2), with an expansion to 15,050 m2 (162,000 ft2) planned for 2016. Plant 3 integrates Lean Manufacturing Principals and Six Sigma Techniques and is specialized in the manufacturing, test, and service of mostly top level assemblies and finished products.
The advanced 6,968 m2 (75,000 ft2) Plant 2/4 subassembly facility, supports the main top assembly facility (Plant 3). Inaugurated in April 2008, Plant 2 includes metal stamping and machining operations of the vertically integrated manufacturing processes. Plant 2 also supplies key subassemblies to Spellman manufacturing and repair facilities globally. It also includes a dedicated manufacturing areas for PCB Assembly, SMT, cables, coils, transformers,metal painting, plating, and welding.
Some important facility features are:
ISO 9001:2015 and ISO 14001:2015 Certifications
2010 Tamaulipas State Quality Award Winner
3rd Place of CFE's (Federal Electric Power Commission) 2012 National Energy Saving Projects (or PNAEE for its initials in Spanish)
Green Building Design – 1st LEED Certified Building in the State of Tamaulipas, Mexico and 11th in all of Mexico
1st Facility in Mexico using Natural Gas Chill HVAC systems
Metal Machining, Stamping, Welding, Secondary Operations, and Insourcing processes such as Platting and Painting.
Specialized in manufacturing sub-assemblies (PCB Automation – SMT, VCD, DIP and Radial insertion and AOI; transformers and coils) and test of sub-assemblies.
Fully Automated Test Systems to ensure product compliance (IC programming / Fixtures / BI / Pre & post-test and Final)
Shared ERP system with Headquarters
Finish goods and component warehouse in Brownsville Texas.
Bilingual Staff