Environmental Sustainability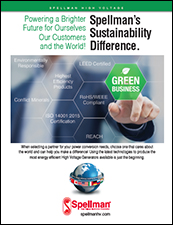 We invite you to read Spellman's Sustainability Difference; a summary of our commitment to the environment and sustainability.
Spellman is strongly committed to the environment and sustainability. We implement these beliefs in our business by maintaining a ISO14001:2015 certification at all manufacturing sites and through various other means. Our commitment not only benefits the planet, but it also supports our customers green initiatives and long-term goals.
Spellman has implemented comprehensive programs to improve energy efficiency, promote recycling, and eliminate the use of hazardous substances. We have a an extensive reduce, reuse, and recycle program at all our facilities that ensures the reduction of waste generation. The following highlights showcase our environmental stewardship:
Spellman is partnered with the EPA as part of the Green Power Partnership Program. Learn more about our partnership here.
Our corporate office in Hauppauge, NY is powered by 100% renewable energy through our photovoltaic systems, utility-provided low-impact hydro energy, and 100% wind renewable energy certificates (RECs).
Click here to learn more about Spellman's Hauppauge facility photovoltaic system installation and see real time power generation data. (Flash required)
Spellman China's new facility in Suzhou was recognized as "a showcase of sustainability" with a LEED Gold Certification in 2022.
Spellman Mexico's Matamoros Plant 3 was awarded a LEED Silver Certification in 2013.
Participation in the Responsible Business Alliance, the world's largest industry coalition dedicated to corporate social responsibility in global supply chains.
Planting of two trees for every tree consumed (paper equivalent) within the Spellman UK facility in fiscal year 2022.
Dr. Loren Skeist, President and CEO of Spellman High Voltage Electronics states: "We are proud of the various programs we have implemented to reduce our operational carbon footprint. Environmental and sustainability programs are always good for both the environment and business and we will continue to do our part in further reducing our impact."
Learn more about Spellman's Hauppauge facility solar panel installation and see real time power generation data (Flash required).