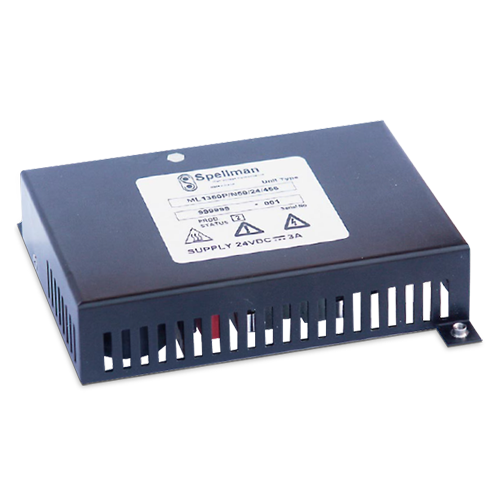 ML1350
四重極出力高圧電源
低コスト、空気絶縁設計
表面実装設計−コンパクトで軽量
アークおよび短絡保護
リモート・イネーブル制御機能
UL61010-1認証
質量分析用高圧電源
ML1350電源モジュールは、質量分析で使用される四重極駆 動用として特別に設計されました。このコンパクトで低コスト、 表面実装ベースの高性能モジュールはPCB実装可能です。この 四重出力電源は、四重極ドライバおよび静電レンズに理想的です。
電圧調整、電流制限された、固定の四重出力を有する本体は、 各出力から負荷電流15mAまでが得られます。また、アークお よび短絡から完全に保護されます。接地メタル・ケースでは シー ルドおよび放熱板双方の機能を備えています。イネーブル機能を 備え、電源へのシンプルなリモート操作を可能にします。
本製品はCEおよびUL承認品です。
用途

(Ref. 128037-001 REV. J)
Input Voltage:
+24 Vdc, ±1.2Vdc
Input Current:
≤ 3.0 amps
Output Voltage:
Output 1-Positive:
+245 volts, fixed, accuracy <±10%
Output 2-Negative:
-245 volts, fixed, accuracy <±10%
Output 3-Positive:
+1350 volts, fixed, accuracy <±7%
Output 4-Negative:
-1350 volts, fixed, accuracy <±7%
Output Current:
15mA maximum for each output
Line Regulation: (typical)
±1 volt all outputs
Load Regulation: (typical)
±3% all outputs
Output Current Limit:
An auto-recovering short circuit fold back limit is employed. Fully arc protected, capable of 10 arcs in 5 seconds.
Ripple:
≤ 0.1% p-p of full rated output voltage
Stability:
≤ 0.25% per hour, constant operating conditions after 1 hour warm up.
Under Voltage Shutdown:
The power supply will shut down when an input under voltage condition is detected. When the input voltage is restored above 11.8 volts, operating the enable pin will reset this fault.
Temperature Coefficient:
≤ 200ppm per degree C
Environmental:
Temperature Range:
Operating: 0°C to 50°C
Storage: -35°C to 85°C
Humidity:
10% to 90% RH, non-condensing
Cooling:
Unit must be mounted in free air, in any position with the exception of inverted (pins up). Forced air cooling is recommended.
Dimensions:
0.984. H X 4.331. W X 3.150. D (25mm x 110mm x 80mm) Width does not include mounting tab
Weight:
7.27 oz. (206g)
Regulatory Approvals:
Compliant to EEC EMC Directive. Compliant to EEC Low Voltage Directive.
DIMENSIONS: in.[mm]
TOP VIEW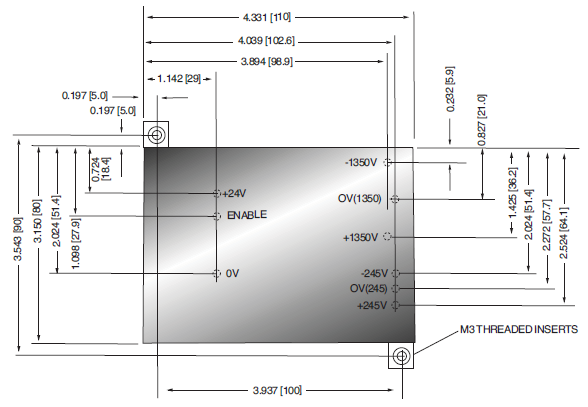 FRONT VIEW

SIDE VIEW


Note: All specifications are subject to change without notice. Please consult the
PDF version
of this datasheet for the most up-to-date revision.