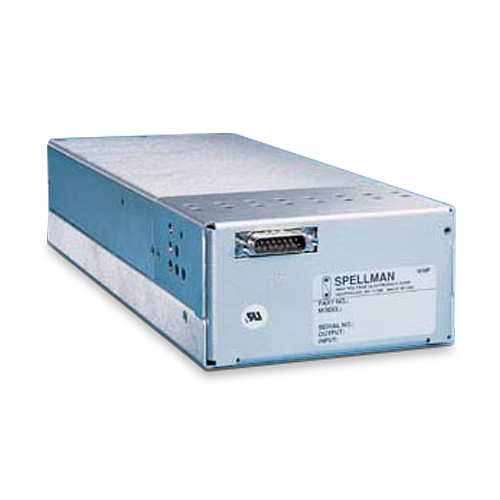 SERIE TOF3000
Reversibilidad remota de la polaridad de salida mediante control de señal TTL
Ruido y rizo ultra bajos
Conjunto modular compacto para aplicaciones de OEM
Encapsulada para un funcionamiento confiable, de largo plazo y libre de efecto corona
Clasificación CE, cumple con RoHS
FUENTE DE ALIMENTACIÓN DE ALTO VOLTAJE PARA ESPECTROMETRÍA DE MASAS
La TOF3000 ofrece especificaciones importantes como rizo y ruido ultra bajos, excelente coeficiente de temperatura; una salida precisa estable y con repetibilidad, además de la capacidad de inversión de polaridad de salida remota. Estas especificaciones superiores resultan en una resolución de espectrometría de masas mejorada. El empaquetado de alto voltaje exclusivo y las técnicas de fabricación de montaje superficial, en conjunto con la tecnología de encapsulamiento propia de Spellman proporcionan a esta unidad un conjunto de tamaño atractivo para aplicaciones de OEM.
Con capacidad de salida de 0 kV-30 kV a 400 µA con capacidad de inversión de polaridad remota y dimensiones de 3.0" (76.2 mm) de altura x 5.0" (127.0 mm) de anchura x 12 5/8" (320.67 mm) de largo, la TOF3000 es una fuente de alimentación de alto voltaje pequeña y económica que establece el estándar para las aplicaciones de espectrometría de masas futuras.
Aplicaciones típicas:
(Ref. 128032-001 REV. K)

Input Voltage:
+24 Vdc, +5%, -2%
Input Current:
2 amps maximum
Output Voltage:
0 to 30kV
Output Current:
0 to 400 microamperes
Polarity:
Positive or Negative with respect to ground, reversible via TTL signal
Voltage Regulation:
Line: 0.001% for input change of 1 volt
Load: 0.001% for 100µA to full load change
Current Regulation:
Line: 0.05% for +5% to -2% input change
Load: 0.1% for 0 to maximum output voltage
Ripple:
≤ 70mV peak to peak
Stability:
0.01% per hour, 0.02% per 8 hours after 1.0 hour warm up period
Temperature Coefficient:
25ppm per degree C
Environmental:
Temperature Range:
Operating: 0°C to 50°C
Storage: -20°C to 65°C
Humidity:
10% to 90% RH, non-condensing
Control Interface
Voltage Program Input:
0 to +10Vdc corresponds to 0 to ±30kV, Zin ≥ 1 megohm
Program Accuracy:
±0.15% at 15KV, with overall accuracy of ±0.25% of maximum output
TTL Polarity Reversal:
High = positive polarity
Low = negative polarity
Voltage Monitor:
0 to 10Vdc corresponds to 0 to 30KV, Zout = 4.7Kohm
Current Monitor:
0 to 10Vdc corresponds to 0 to 400uA, Zout = 4.7Kohm
Cooling:
Convection cooled
Dimensions:
3. H X 5. W X 12.625. D (76.2mm x 127mm x 321.7mm)
Weight:
9.5 pounds (4.31kg)
Interface Connector:
15 pin male D connector
Output Connector:
Alden B102, which accepts Alden B200 cable plug
Regulatory Approvals:
Compliant to 2004/108/EC, The EMC Directive and 2006/95/EC, The Low Voltage Directive. Compliant to 2002/95/EC, RoHS.
JB1 INTERFACE CONNECTOR
| Pin | Signal | Signal Parameters |
| --- | --- | --- |
| 1 | Spare | N/C |
| 2 | Voltage Program | 0 to 10V=0 to 100% Rated Output |
| 3 | Spare | N/C |
| 4 | Spare | N/C |
| 5 | Voltage Monitor | 0 to 10V=0 to 100% Rated Output |
| 6 | TTL Polarity Control Signal | Hi=Positive Polarity, Low=Negative Polarity |
| 7 | Signal Ground | Signal Ground |
| 8 | Power Ground | Power Ground |
| 9 | Spare | N/C |
| 10 | Spare | N/C |
| 11 | Spare | N/C |
| 12 | TTL HV Enable | Hi=Inhibit, Low=Enable |
| 13 | Current Monitor | 0 to 10V=0 to 100% Rated Output |
| 14 | Spare | N/C |
| 15 | +24Vdc | +24Vdc |
DIMENSIONS: in.[mm]
FRONT VIEW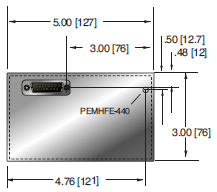 BACK VIEW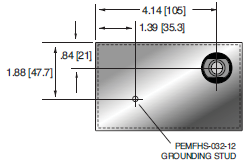 TOP VIEW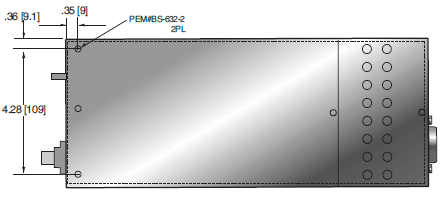 BOTTOM VIEW