Spellman High Voltage Electronics Ltd, UK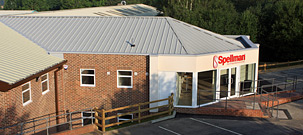 Spellman High Voltage Electronics Ltd, UK

West Sussex, United Kingdom
Diseño, manufactura y ventas europeas y sede de oficinas de servicio.
Broomers Hill Park, Broomers Hill Lane,
Pulborough, West Sussex RH20 2RY United Kingdom
Teléfono: +44 (0) 1798 877000
Email:
HVSALES@spellmanhv.co.uk
Spellman's European headquarters is located in a 3,500m2 (37,650ft2) facility in Pulborough, West Sussex. Specializing in the design, manufacture and after sales support of precision high voltage power supplies and PFE systems.

Algunas características importantes de las instalaciones son:
ISO 9001:2015 Certification
ISO 14001:2015 Certification
ISO 45001:2018 Certification
UL Client Test Data Program Certified
Authorised Economic Operators (AEO) Certified for customs simplification, security and safety
Lean manufacturing techniques to satisfy volume and a variety of product demands
EMC Test & CE Self Certification Capabilities
Automatic Test Systems to ensure product compliance
Multilingual communicating ability
UL/ETL/CSA/TUV Safety Agency Approval on selected products
Environmental (Thermal, Vibration & Pressure) Screening Capabilities
Para conocer más acerca de la historia de las instalaciones de Spellman UK, dar click aqui.