Medio Ambiente
Spellman supports customers' green initiatives and demonstrates its commitment to sustain the environment by maintaining ISO 14001:2015 certification and comprehensive programs to improve energy efficiency, promote recycling, and eliminate the use of hazardous substances. We do have a corporate recycling program implemented at all our facilities that reduce the amount of waste going to land fill. Spellman considers the environmental impact of the entire life cycle of its products.
Spellman's Energy Conservation Programs Reduce Carbon Footprint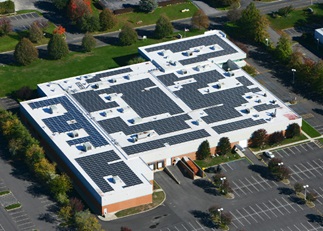 Spellman High Voltage has successfully reduced its average daily electricity usage at all its Global facilities and its natural gas usage. Renewable energy is used on our Corporate Headquarters with a total capacity of 471.258 kW. Illumination upgrades were done and continue on development throughout the facilities using high efficiency light fixtures that reduced electricity consumption while improving general lighting conditions. Automatic motion sensors helped to eliminate wasted energy. Air conditioning, air handling and temperature regulation equipment were upgraded and networked as part of a strategic plan to provide more consistent environmental comfort for Spellman employees while reducing natural gas consumption.
Learn more about Spellman's Hauppauge facility solar panel installation and see real time power generation data (Flash required).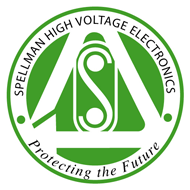 According to Dr Loren Skeist, President of Spellman High Voltage Electronics, "We're proud of the energy conservation results we have obtained, and of our continuing efforts to further reduce our operational carbon footprint. Energy conservation programs are good for both the environment and business".
Competencia de Tecnología Limpia Spellman Clean Tech
La preocupación de Spellman por el medio ambiente nos ha llevado a patrocinar la Competencia de Tecnología Limpia Clean Tech durante los últimos dos años. Desarrollado por el Centro para la Enseñanza y el Aprendizaje de las Ciencias (CSTL) del Centro Rockville hace ocho años, Spellman HV Electronics Clean Tech Competition es la única competencia STEM enfocada en el uso de tecnología limpia para resolver los desafíos ambientales. Las finales de este año se llevaron a cabo en el Centro Wang de la Universidad de Stony Brook.
Elegidos de casi 550 equipos de 39 países, diez equipos finalistas internacionales presentaron sus soluciones basadas en STEM para el cambio climático. Además de los premios otorgados en el evento, el equipo ganador también tiene la oportunidad de asistir y presentarse en el Congreso Mundial sobre Cambio Climático en Roma, Italia, en septiembre. Vea nuestro video a continuación para ver los mejores momentos.