Service And Technical Support
Product Life Cycle and Service Solutions
Spellman offers a variety of service solutions to provide you with the productivity, reliability and up time you need to succeed. Contact our experienced and knowledgeable Customer Service team at customerservice@spellmanhv.com to design a custom program that meets your business and budget requirements.
Spellman Global Repair Network
Extended Warranty Options
Preventative Maintenance Programs
Calibration Services
Product Repair/Service Courses
High Voltage Training Courses
Application Engineering Support
For more information on Spellman's Service Solutions, please click here.
Factory Service Requests
For an authorization to ship a product back for repair or service, contact our Customer Service team or click Request an RMA/SVO number.
You will be asked to provide the model and serial numbers which are on the rear panel of the power supply as well as the reason for return.
Spellman Serial Number: (see image below).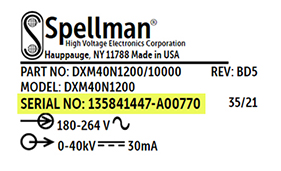 Spellman Part Number: (see image below).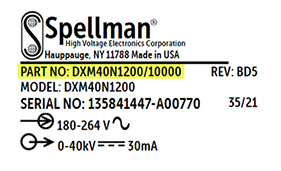 Please note the following:
Once the requested information has been submitted one of our service team members will contact you within 1 business day and will inform you of the warranty status of the unit, if applicable, or an estimate for the cost of the service requested.
A purchase order or form of payment will be needed before issuing a return authorization number.
A Return Material Authorization (RMA or SVO number) is needed for all returns. The RMA/SVO number should be marked clearly on the outside of the shipping container. Packages received without an authorization number may delay return of the product.
A more detailed cost estimate will be made once the power supply is received and evaluated by Spellman. If the cost of the repair is expected to exceed our initial estimates, Spellman will contact you for authorization to proceed.
The buyer shall pay shipping costs to and from Spellman, unless otherwise instructed by the Spellman Team.
In the event that the unit is found to not be defective, or if the unit is uneconomical to repair, Spellman will charge a bench evaluation fee.
Spellman will warrant for three (3) months or balance of product warranty, whichever is longer, the repaired assembly/part/unit. If the same problem occurs within this warranty period Spellman shall undertake all the work to rectify the problem with no charge and/or cost to the buyer.
For Spellman's full Factory Service Warranty click here.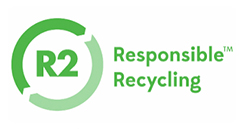 Product Recycling/Disposal
At the end of their useful life cycle Spellman can recycle and dispose of your high voltage power supplies, X-Ray generators and Monoblock® X-Ray sources we manufacture.
See how we can help you address your e-waste requirements.
Technical Support:
For other technical support questions, please contact: customerservice@spellmanhv.com.
Customer Service Locations
Spellman High Voltage Electronics (SIP) Co., Ltd. China
Phone +86-512-67630010
Fax +86-512-67630030
E-mail: service@spellmanhv.cn