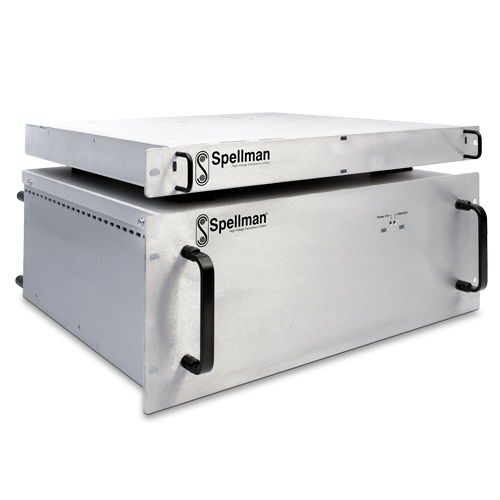 FIB
Integrated Accelerator and Ion Source Chassis
High Performance Ground Reference Lens Chassis
Very Low Ripple and Ultra Stable Outputs
Robust Arc and Short Circuit Protection
Design to Minimize Micro-discharge Events
Optically Isolated Digital Interface
CE Marked & Designed to Meet SEMI S2
*Note: All specifications are subject to change without notice. Please consult the English PDF version of this datasheet for the most up-to-date revision.




FIB
Spellman's FIB Series is an integrated multiple output high voltage power supply specifically designed for focused ion beam applications. It incorporates a high stability accelerator voltage with the floating outputs to drive traditional Ga Ion and Plasma Sources.
An additional Lens Chassis is available, providing the high performance fixed or reversible polarity high voltage lenses required to focus the Ion Beam. Both the Main Chassis and Lens Chassis are 19" rack mountable. Focused Ion Beam is typically used in the semiconductor industry, materials science and increasingly in the biological field for imaging, etching and deposition of materials.
The Main Chassis provides an Acceleration voltage up to 35kV, with floating Filament, Extractor and Suppressor outputs, all designed to the exacting performance requirements for FIB applications. The Lens Chassis offers Lens voltages up to 30kV, with fixed or Reversible polarity.
All outputs are offered with ultra-low output ripple, excellent regulation, stability, temperature coefficient, drift and accuracy specifications.
Customer control of this integrated FIB power supply system is accomplished via a fiber optic interface. All high voltage safety interlocks are of a failsafe hardware based design.
TYPICAL APPLICATIONS:
Focused Ion Beam (FIB)
Ion Gun Controller
(Ref. 128029-001 REV. C)
SPECIFICATIONS
Input Voltage:
+24Vdc, ±5% @ 5.5 amps maximum. Inrush is <6 amps for 1 second.
Environmental:
Operating Temperature:
+10°C to +45°C ambient for normal operation. The unit will operate from 0°C but will require an extended warm up period.
Storage Temperature:
-20°C to +60°C
Humidity:
0 to 80% RH, non-condensing
Altitude:
2000 meters ASL at full power. For altitudes above 2000 meters the maximum ambient operating temperature is linearly derated by 1.1˚C per 300 meter interval.
FIB Input Power Connector:
2 pin Mate-n-Lok (TE 1-350942-0)
FIB Communication:
Fiber Optics dual channel Avago HFBR- 2524z/1524z. RS-232. Ethernet RJ-45 socket which supports 100BaseTX. When Ethernet port is connected, RS-232 will not work. A Spellman Fiber Optic to RS-232 converter can be ordered, as well as a complete Fiber Optic to USB communication kit.
FIB Vacuum Interlock Connector:
Dual channel Avago HFBR- 2524z (receiver) /1524z (transmitter)
FIB to Lens Modules Interconnection:
The modules are supplied with interconnecting cables for the power and communications. The same kit is used to connect the FIBC to the lens module, and, if required, between a lens module and the next.
FIB HV Output Connector:
The main high voltage output is fitted with a custom 4 pole receptacle. A Spellman HV cable assembly, available in different lengths, can be ordered with the unit.
Lenses HV Output Connectors:
The lenses are fitted with Lemo ERA3Y430CTL receptacles. A Spellman 5 meters mating HV cable assembly can be ordered with the units. (See the product manual for additional cables and connectors information)
Safety Interlocks:
The vacuum interlock is an optical interlock. When it opens, the power supply is deactivated via relay contacts and will not reactivate until it is enabled through the computer control, even though the interlock may close. The FIB communication remains operational.
The interlock plate is situated around the FIB HV Output connector, and if removed will also disable all outputs.
The individual modules of the HVPS can be enabled and disabled through computer control, provided the appropriate hardware interlocks are enabled.
Weight:
Main chassis: 67.46 lbs. (30.6 kg)
Lens chassis: 27.56 lbs. (12.5 kg)
Regulatory Approvals:
Compliant to EEC Low Voltage Directive. UK Conformity Assessed. RoHS Compliant.
OUTPUT SPECIFICATIONS
MODULE
FIBC35
LGM
OUTPUT
Accelerator
Filament
Suppressor
Extractor
Lens
Output Voltage
0 to 35kV, referenced to ground
0 to 5V referenced to Accelerator, current controlled
-2kV to +2kV referenced to Accelerator
0 to -15kV referenced to Accelerator
30kV max, referenced to ground, positive, negative or bipolar. (see Lens Module options table)
Output current max
30μA
5A
30μA
400μA
30μA or 50μA (see config. table)
Output current limit
30μA
current controlled
30μA
programmable 8 bit, 0 to 400μA
30μA or 50μA ( see config. table)
Output Absolute Accuracy
100V
5mA
20V
100V
100V
Load Regulation
±0.01% of max for 0 to 30μA change
±0.1% of max for 0 to 5V change
±0.01% of max for 0 to 30μA change
±0.01% of max for 0 to 400μA change
±0.005% of max for 0 to max rated current change
Line Regulation
100mV for a 5% line change
5mA for a 5% line change
100mV for a 5% line change
100mV for a 5% line change
100mV for a 5% line change
Ripple p-p from 0.1Hz to 1MHz
200mV at max output
10mA
150mV
100mV at 30μA and below
200mV for 30kV bipolar outputs.150mV for all other output ratings
Temperature Coefficient
25 ppm/°C
200 ppm/°C
25 ppm/°C
25 ppm/°C
25 ppm/°C
Stability (after 2h warm up)
1.5V / 10h
5mA/10min
0.5V / 10h
0.5V / 10h
1V / 10h
Programming
16 bit, 0 to 35kV
16 bit, 0 to 5A
16 bit, -2kV to +2kV
16 bit, 0 to -15kV
16 bit, min to max Vout
Voltage Monitoring

16 bit, 0 to 35kV
±1% accuracy
±50V offset
16 bit, 0 to 5V
±4% accuracy
±0.1V offset
16 bit, -2kV to +2kV
±1% accuracy
±8V offset
16 bit, 0 to -15kV
±1% accuracy
±15V offset
18 bit, min to max Vout,
±1% accuracy
±15V offset
Current Monitoring

16 bit, 0 to 30μA
±1% accuracy
±0.3μA offset
16 bit, 0 to 5A
± 4% accuracy
±50mA offset
N/A

16 bit 0 to 10μA:
±0.05μA accuracy
±0.05μA offset

16 bit 10μA to 400μA:
±3% accuracy
±5μA offset

18 bit, min to max Iout
±3% accuracy
±1μA offset
Response (See note 1)

<1.0 s
<0.1 s
<0.25 s
<0.25 s
<0.1 s, <4 sec to reach
<2V away from steady state for
20kV to 18kV and
18kv to 20kV change
Additional info
see note 2
see notes 3 and 4
Note 1:
This is the time taken for the output signal of a module to settle (to 0.2% of the step size, or 1 V (20 mA for the filament), whichever is greater) in response to a ±2% or less (of full scale) step in its output, as measured from when the output first starts to change.
Note 2:
Hard trip at 400μA in < 0.25s programmable trip delay (for when current at I limit) 0 to 255s, 8 bit res., (5s min, 20s default)
Note 3:
The above specifications do not apply in the range -500V to +500V
Note 4:
Wobble range: 2V to 2.5kV p-p, sinusoidal. If wobbling occurs near zero, the wobble waveform will be clipped so as to prevent crossing zero.
Wobble Period: 1s to 4s
LENS MODULES
Available as Standard
Lens 1 Output
Lens 2 Output
Part number
Voltage
Current
Voltage
Current
LGM30P/25PN
0V to +30kV
30uA
-25kV to +25kV
30uA
LGM30P/30P
0V to +30kV
30uA
0V to +30kV
30uA
LGM30P/25N
0V to +30kV
30uA
0V to -25kV
30uA
Available on Request
Lens 1 Output
Lens 2 Output
LGM20PN/30PN
-20kV to 20kV
30uA
-30kV to +30kV
30uA
LGM30N/25PN
0V to -30kV
30uA
-25kV to +25kV
30uA
LGM20N/10N
0V to -20kV
50uA
0 to -10kV
50uA
Please consult with factory for availability and custom configuration requests.
Lens Chassis
DIMENSIONS: in.[mm]
Main Chassis
DIMENSIONS: in.[mm]
TOP VIEW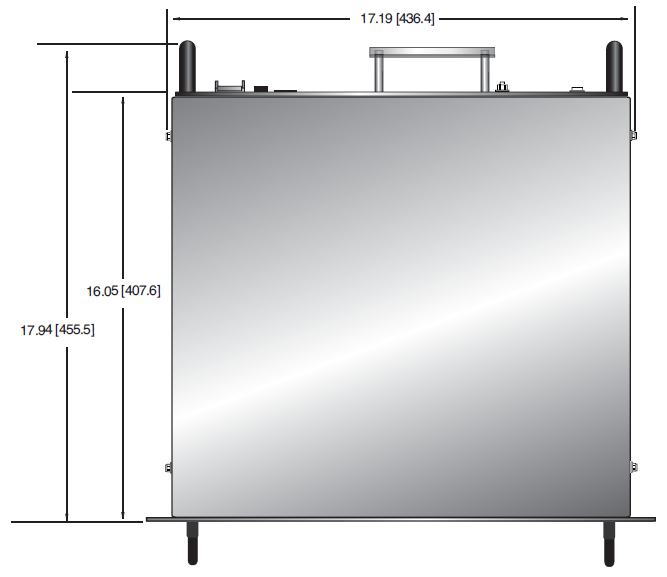 FRONT VIEW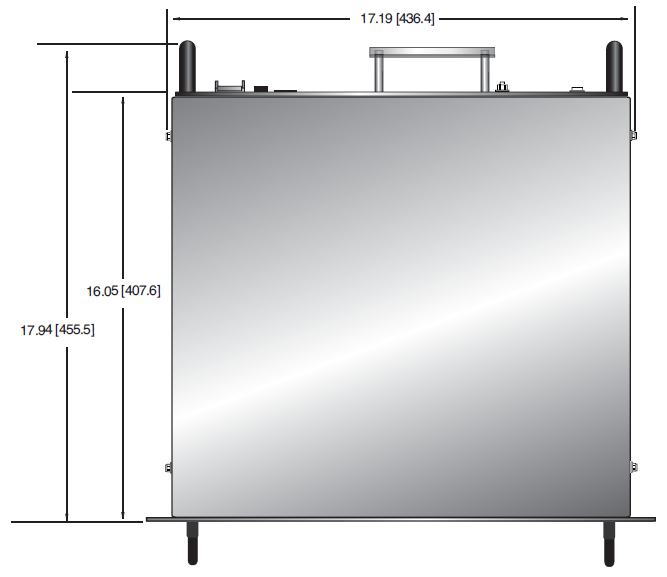 REAR VIEW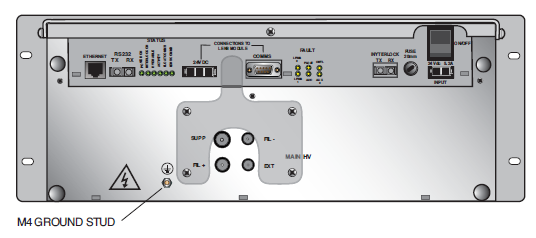 Lens Chassis
DIMENSIONS: in.[mm]
TOP VIEW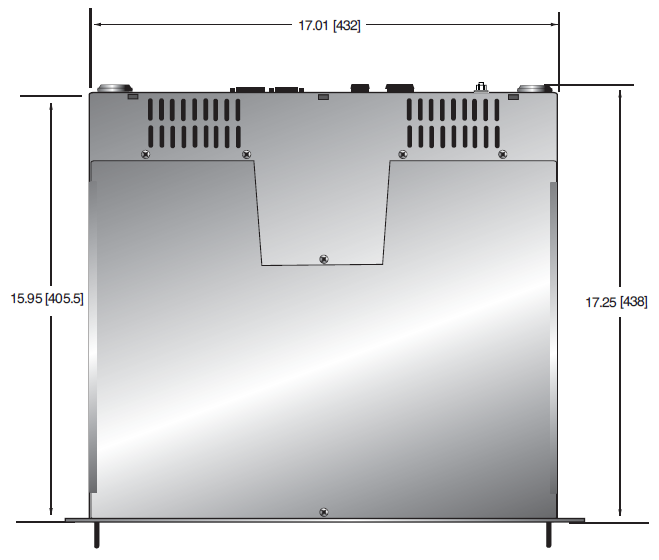 FRONT VIEW

REAR VIEW

HOW TO ORDER
Description
Part number
FIB - Main Chassis
FIBC35
LGM - Lens Chassis
See part number in the Lens Modules Table
FIBC to Lens Modules
Interconnection kit
FIBK826
FIBC HV Output cable
2.8 meters: HVC30/4ISO/1209
5 meters: HVC30/4ISO/1297
Lens HV Output cable
5 meters: HVC30/1S/1253
FIB communication kit
FIBK100
Optical to RS-232 converter
21777