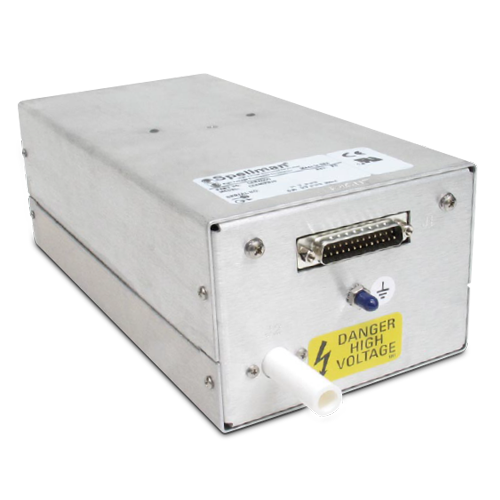 CZE2000
Cost Effective Modular Supply; Ideal for Electrospinning
0-30kV. 0-300µA; Local or Remote Programmable
Polarity Reversible Upon Command in <1 Sec at No Load
Low Stored Energy, Current Limited Output
*Note: All specifications are subject to change without notice. Please consult the English PDF version of this datasheet for the most up-to-date revision.


CZE2000 Auto-Reversing Modular High Voltage Power Supply
Spellman's CZE2000 modular high voltage power supply is ideal for OEM usage. It is specifically designed to meet the needs of applications requiring a hot switched reversible output voltage. The output polarity of the unit can be quickly and safely reversed via the Polarity Control Signal provided on the interface connecter.
Both the output voltage and current are fully adjustable via ground referenced remote programming signals such that 0 to 10Vdc corresponds to 0 to 100% rated output voltage and current.
Remote motioning functionality is provided by voltage and current test points such that 0 to 10Vdc corresponds to 0 to 100% rated voltage and current. Additionally remote polarity and mode indicators provide a comprehensive overview of power supply operation.
Excellent load and line regulation specifications along with outstanding stability and low ripple assure a stable high voltage output for consistent process results.

Typical applications:
Electrospinning
Mass Spectrometry
Capillary Electrophoresis
Electrostatic Research
(Ref. 128076-001 REV. G)
Input Voltage:
24Vdc, ±10%
Input Current:
Less than 1 amp
Efficiency:
75% typical
Output Voltage:
See selection table
Output Current:
See selection table
Polarity:
Auto reversible via command
Power:
10 watts, maximum
Line Regulation:
0.01% for a 10% input voltage change
Load Regulation:
0.01% for a full load change
Ripple:
0.1% Vp-p
Stability:
0.02% per 8 hours (after 1/2 hr warmup)
NL Time Constant:
100ms
Stored Energy:
0.2 Joules at 30kV
Temperature Coefficient:
100ppm/°C
Operating Temperature:
0°C to 40°C
Storage Temperature:
-40°C to 85°C
Humidity:
10% to 85% RH, non condensing
Cooling:
Convection cooled
Dimensions:
3.5"H x 5"W x 10"D (8.9cm x 12.7cm x 25.4cm).
Weight:
6.2lbs. (2.8kg)
Interface Connector:
25 pin male D connector
HV Output Connector:
Detachable 36. (0.91m) cable provided
Regulatory Approvals:
Compliant to EEC EMC Directive. Compliant to EEC Low Voltage Directive. UL/CUL recognized file E148969
CZE2000 SELECTION TABLE
Maximum Rating
Model Number
kV
mA
5
2.0
CZE 5PN10
10
1.0
CZE 10PN10
15
0.67
CZE 15PN10
20
0.50
CZE 20PN10
30
0.30
CZE 30PN10
CZE2000 25 PIN MALE D CONNECTOR
Pin
Signal
Parameters
1
+24Vdc Return
Power Return
2
+24Vdc Return
Power Return
3
+24Vdc Return
Power Return
4
HV Enable/Inhibit
Open or <1Vdc = HV OFF, >3.4Vdc
(up to 15Vdc) = HV ON1
5
Voltage Test Point
0 to 10Vdc = 0 to 100% rated output, Zout =10kΩ, 1%
6
Current Test Point
0 to 10Vdc = 0 to 100% rated output, Zout =10kΩ, 1%
7
Chassis Ground
Ground
8
Remote Voltage Control
0 to 10Vdc = 0 to 100% Rated Output, Zin =10MΩ
9
Remote Current Control
0 to 10Vdc = 0 to 100% Rated Output, Zin =10MΩ
10
+10Vdc Reference Output
+10Vdc, 4mA maximum
11
Signal Return
Signal Return
12
Polarity Control
Open or >3.4Vdc (up to 15Vdc) = Positive Polarity. Grounded or <1Vdc = Negative Polarity
13
Positive Polarity Indicator
+24Vdc sourced through a 100Ω series limiting resistor. +24Vdc = active signal
14
+24Vdc Input
Power Input
15
+24Vdc Input
Power Input
16
Chassis Ground
Ground
17
Negative Polarity Indicator
+24Vdc sourced through a 100Ω series limiting resistor. +24Vdc = active signal
18
I Mode Indicator
Open collector pulled up internally to +15Vdc through 2.7kΩ resistor with a 470Ω limiting resistor in series. Transistor OFF = signal active
19
V Mode Indicator
Open collector pulled up internally to +15Vdc through 2.7kΩ resistor with a 470Ω limiting resistor in series. Transistor OFF = signal active
20
Return Current Test Point
0 to 10Vdc = 0 to 100% rated output current, as measured returned from load. Zout =10kΩ, 1%
21
Load Return
High Voltage Return Point. Required for GFI circuit functionality
22
Ground Fault Indicator
Open collector pulled up internally to +15Vdc through 4.7kΩ resistor with a 470Ω limiting resistor in series. Transistor OFF = signal active
23
Spare
No Connection
24
Spare
No Connection
25
Spare
No Connection
DIMENSIONS: in.[mm]
FRONT VIEW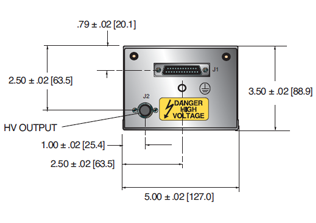 TOP VIEW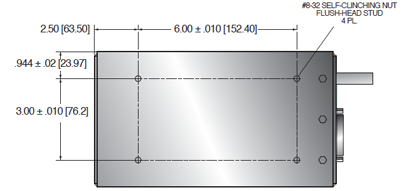 BOTTOM VIEW