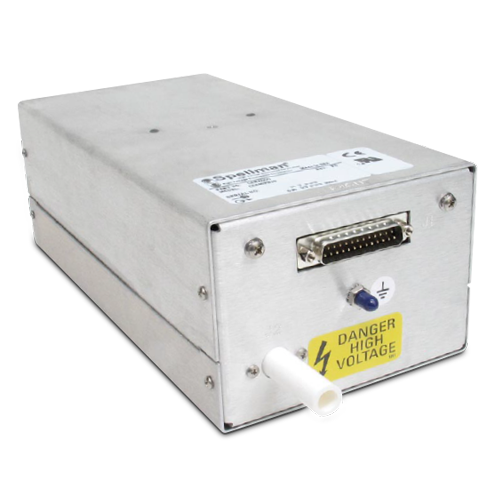 SERIE CZE2000
Fuente modular rentable; ideal para el electrohilado
Programación local o remota de 0 kV-30 kV y 0 µA-300 µA.
Inversión de polaridad a solicitud en <1 segundo sin carga
Bajo almacenamiento de energía, salida limitada de corriente

FUENTE DE ALIMENTACIÓN DE ALTO VOLTAJE DE INVERSIÓN AUTOMÁTICA
La fuente modular de alimentación de energía de alto voltaje CZE2000 de Spellman es ideal para uso en aplicaciones de OEM. Está específicamente diseñada para cumplir las necesidades de las aplicaciones que requieren voltaje de salida con inversión sin desconexión. La polaridad de salida de la unidad puede invertirse de forma segura y rápida mediante la señal de control de polaridad suministrada en el conector de la interfaz.
El voltaje y la corriente de salida se ajustan por completo mediante señales de programación remotas con referencia a tierra tales como 0 VCD a 10 VCD que corresponde a 0 a 100% del voltaje y corriente de salida nominales.
La funcionalidad para la indicación remota se proporciona mediante puntos de prueba de voltaje y corriente tales como, 0 VCD a 10 VCD que corresponde a 0 a 100% del voltaje y la corriente nominal. Adicionalmente los indicadores remotos de polaridad y modo proporcionan una vista general detallada de la operación de la fuente de energía.
Las excelentes especificaciones de regulación de línea y carga, además de la sorprendente estabilidad y bajo rizo aseguran una salida de alto voltaje estable para resultados consistentes de los procesos.

Typical applications:
Electrohilado
Espectrometría de masas
Electroforesis capilar
Investigación electrostática

(Ref. 128076-001 REV. G)
Input Voltage:
24Vdc, ±10%
Input Current:
Less than 1 amp
Efficiency:
75% typical
Output Voltage:
See selection table
Output Current:
See selection table
Polarity:
Auto reversible via command
Power:
10 watts, maximum
Line Regulation:
0.01% for a 10% input voltage change
Load Regulation:
0.01% for a full load change
Ripple:
0.1% Vp-p
Stability:
0.02% per 8 hours (after 1/2 hr warmup)
NL Time Constant:
100ms
Stored Energy:
0.2 Joules at 30kV
Temperature Coefficient:
100ppm/°C
Operating Temperature:
0°C to 40°C
Storage Temperature:
-40°C to 85°C
Humidity:
10% to 85% RH, non condensing
Cooling:
Convection cooled
Dimensions:
3.5"H x 5"W x 10"D (8.9cm x 12.7cm x 25.4cm).
Weight:
6.2lbs. (2.8kg)
Interface Connector:
25 pin male D connector
HV Output Connector:
Detachable 36. (0.91m) cable provided
Regulatory Approvals:
Compliant to EEC EMC Directive. Compliant to EEC Low Voltage Directive. UL/CUL recognized file E148969
CZE2000 SELECTION TABLE
Maximum Rating
Model Number
kV
mA
5
2.0
CZE 5PN10
10
1.0
CZE 10PN10
15
0.67
CZE 15PN10
20
0.50
CZE 20PN10
30
0.30
CZE 30PN10
CZE2000 25 PIN MALE D CONNECTOR
Pin
Signal
Parameters
1
+24Vdc Return
Power Return
2
+24Vdc Return
Power Return
3
+24Vdc Return
Power Return
4
HV Enable/Inhibit
Open or <1Vdc = HV OFF, >3.4Vdc
(up to 15Vdc) = HV ON1
5
Voltage Test Point
0 to 10Vdc = 0 to 100% rated output, Zout =10kΩ, 1%
6
Current Test Point
0 to 10Vdc = 0 to 100% rated output, Zout =10kΩ, 1%
7
Chassis Ground
Ground
8
Remote Voltage Control
0 to 10Vdc = 0 to 100% Rated Output, Zin =10MΩ
9
Remote Current Control
0 to 10Vdc = 0 to 100% Rated Output, Zin =10MΩ
10
+10Vdc Reference Output
+10Vdc, 4mA maximum
11
Signal Return
Signal Return
12
Polarity Control
Open or >3.4Vdc (up to 15Vdc) = Positive Polarity. Grounded or <1Vdc = Negative Polarity
13
Positive Polarity Indicator
+24Vdc sourced through a 100Ω series limiting resistor. +24Vdc = active signal
14
+24Vdc Input
Power Input
15
+24Vdc Input
Power Input
16
Chassis Ground
Ground
17
Negative Polarity Indicator
+24Vdc sourced through a 100Ω series limiting resistor. +24Vdc = active signal
18
I Mode Indicator
Open collector pulled up internally to +15Vdc through 2.7kΩ resistor with a 470Ω limiting resistor in series. Transistor OFF = signal active
19
V Mode Indicator
Open collector pulled up internally to +15Vdc through 2.7kΩ resistor with a 470Ω limiting resistor in series. Transistor OFF = signal active
20
Return Current Test Point
0 to 10Vdc = 0 to 100% rated output current, as measured returned from load. Zout =10kΩ, 1%
21
Load Return
High Voltage Return Point. Required for GFI circuit functionality
22
Ground Fault Indicator
Open collector pulled up internally to +15Vdc through 4.7kΩ resistor with a 470Ω limiting resistor in series. Transistor OFF = signal active
23
Spare
No Connection
24
Spare
No Connection
25
Spare
No Connection
DIMENSIONS: in.[mm]
FRONT VIEW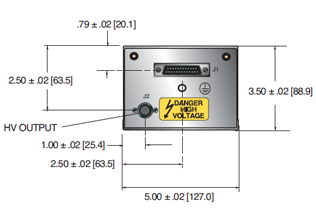 TOP VIEW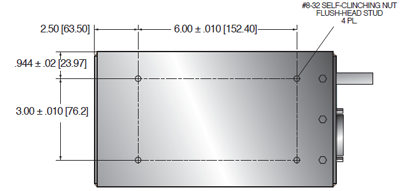 BOTTOM VIEW