Spellman High Voltage Headquarters Now Powered by 100% Renewable Energy
EPA Recognizes Spellman for Leading Green Power Use
May 10, 2022
Hauppauge New York – Spellman High Voltage Electronics Corporation, the world's leading manufacturer of custom high voltage power conversion products, is proud to announce that we recently joined the U.S. Environmental Protection Agency's Green Power Partnership. Spellman High Voltage is using 1.7 million kilowatt-hours (kWh) of green power annually, which is enough green power to meet 100% of the organization's electricity use.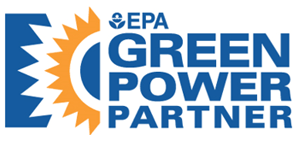 Because of this, we now qualify to be a part of the Green Power Partnership with the US EPA. This program recognizes companies that have a certain percentage of their electricity from renewable sources. By using green power and becoming an EPA Partner, we can help bring positive attention to our company as a leader in green power use, encouraging others to follow our lead.
"Using green power helps our organization reduce air pollution and lower our emissions footprint, while also sending a clear message to our customers that we are taking meaningful actions to sustainably fulfill our vision 'to power progress in health, safety, and quality of life'." said Sara Mikulas, Manager EHSS.
Although we have been using our solar roof array since 2016, it provides only about one third of the electricity we use to operate. In 2021, the Hauppauge site used 1,659,919 kilowatt-hours of electricity – enough to power nearly 200 average American households for a full year!
Now, with a mixture of hydroelectric power through government programs and wind power through certified renewable energy certificates, we have been able to ensure that the electricity created offsite is done through renewable sources.
Sustainability has long been part of Spellman's strategic objectives to 'build a high-performance organization that protects the environment, supports our communities, and develops our people'. By moving the needle in the voluntary green power market, Spellman High Voltage and other Green Power Partners are helping to reduce the negative health impacts of air emissions including those related to ozone, fine particles, acid rain, and regional haze.
According to Dr. Loren Skeist, President & CEO, "Spellman is proud to be leading the way towards a more sustainable energy future at all of our sites. Moving to 100% renewable energy at our New York sites (Hauppauge HQ and Valhalla) is a huge step toward this goal. This, along with Gold LEED certification at our newly completed China facility, Silver LEED certification at our Mexico plants, and the UK facility planting trees to offset 40 tons of carbon usage, puts us firmly on the path to succeed".
About Spellman High Voltage Electronics Corp.
Spellman High Voltage Electronics is the world's leading independent supplier of custom designed and standard precision DC-DC high voltage power supplies, X-Ray generators and Monoblock® X-Ray sources for medical, industrial, semiconductor, security, analytical,
About EPA's Green Power Partnership
The Green Power Partnership is a voluntary program that helps increase green power use among U.S. organizations to advance the American market for green power and development of those sources as a way to reduce air pollution and other environmental impacts associated with electricity use. In 2020, the Partnership had more than 700 Partners voluntarily using nearly 70 billion kilowatt-hours of green power annually. Partners include a wide variety of leading organizations such as Fortune 500® companies; small and medium sized businesses; local, state, and federal governments; and colleges and universities. For additional information, please visit www.epa.gov/greenpower.