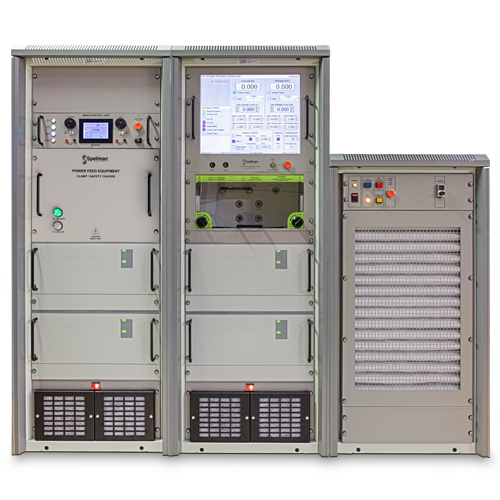 Series PFE - SB
6kV to 20kV Versions Available
Continuously Variable Electronic Test Load Capable of Dissipating 30kW
Up and Down Ramp Rates for Voltage and Current
Programmable Electroding Functions Provided
Electronic Polarity Reversal
Data and Event Logging Functions
Alarm and Trip Functions
*Note: All specifications are subject to change without notice. Please consult the English PDF version of this datasheet for the most up-to-date revision.
Shipborne Power Feed Equipment (PFE)
(Ref. 128144-001 REV. B)
Spellman High Voltage is the leading independent supplier of Power Feed Equipment to the Telecom industry and most frequently utilized power supplies for shipborne uses. Our Power Feed Equipment (PFE-SB) has been optimized for shipborne use to provide continuous power to a line whilst being laid and is known for its reliability and quality. It is used with repeatered fiber optic cable systems for telecommunications and has been installed on numerous cable laying ships around the world.
It provides all of the features to allow safe, reliable operation with configuration functions to suit all cable installation requirements. The PFE system is designed to provide a well-regulated, low ripple, high voltage supply at varying current requirements.
An advanced digital management system provides output configuration, control, polarity setting, continuous monitoring and alarm reporting from the Main Control Unit (MCU), or the System Management Terminal (SMT).
The Electronic Test Load is an active solid-state design allowing the load to be dynamically varied using a manual front panel control.
The system is powered directly from 3-phase supply without the need for autotransformers.
SPECIFICATIONS:
PFE-SB—Input/Output
Model
Output Voltage
Output Current
Input Current

Input Current


(per phase max)
PFESB6PN12
6kV
2A max
400Vac 3 phase ±10% 50/60Hz
25A
PFESB10PN24
10kV
2.4A max
400Vac 3 phase ±10% 50/60Hz
40A
PFESB15PN36
15kV
2.4A max
400Vac 3 phase ±10% 50/60Hz
60A
PFESB20PN40
20kV
2A max
400Vac 3 phase ±10% 50/60Hz
75A
Input Wiring:
3Φ + Neutral (Star). For a 3Φ supply without a neutral (delta), a single phase 230Vac 10A supply will be required to power the control modules.
Voltage Ripple:
<0.3%
Stability:
Typically <0.25% over any 24 hour period with a temperature range of 0°C to 30°C.
Voltage Regulation:
Load: 0.05% of full voltage for full load change.
Line: +/-0.05% of full voltage +500mV over specified range.
Current Regulation:
Load: 0.05% of full current for any voltage change.
Line: +/-0.05% of full current over specified input range.
Temperature Coefficient:
< 100 ppm/°C
Operating Temperature:
0 to +30°C
Storage Temperature:
-10 to +70°C
Humidity:
0% to 90%, non-condensing
Cooling:
Forced Air. 210 liters/sec (445 cfm) per cabinet, 1500 liters/sec (3180 cfm) for the test load.
Regulatory Approvals:
Designed to meet IEC/UL 61010-1 Safety requirements for electrical equipment for measurement, control and laboratory use; CAN/CSA-C22.2 No.61010-1.
KEY FEATURES:
Clamp/Safety Chassis:
Protects the repeaters/cable and PFE. A HV relay and dump circuit will quickly and safely discharge the system in case of emergency shutdown. A front panel mounted lamp indicates if the PFE output is energized.
Output Control:
Using either the Main Control Unit (MCU) or SMT; the system output can be operated in constant current or constant voltage control and as a feed for a single end, double end or branched line.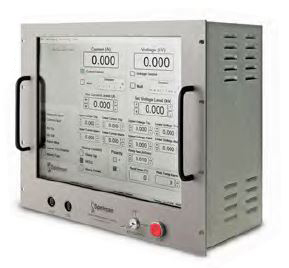 System Management Terminal (SMT):
The SMT is an advanced touchscreen control and monitoring system which can be installed within the PFE cabinets or remotely up to 80m from the PFE.
Full output control and monitoring
Fully adjustable ramp rates in current or voltage control: 10V-10kV/min and 10mA-10A/min
User settable over/under voltage and current trips and alarms
Output voltage and current logging
Event logging
Programmable electroding (tone generator 10-40Hz provided)
Typical System Management Screens: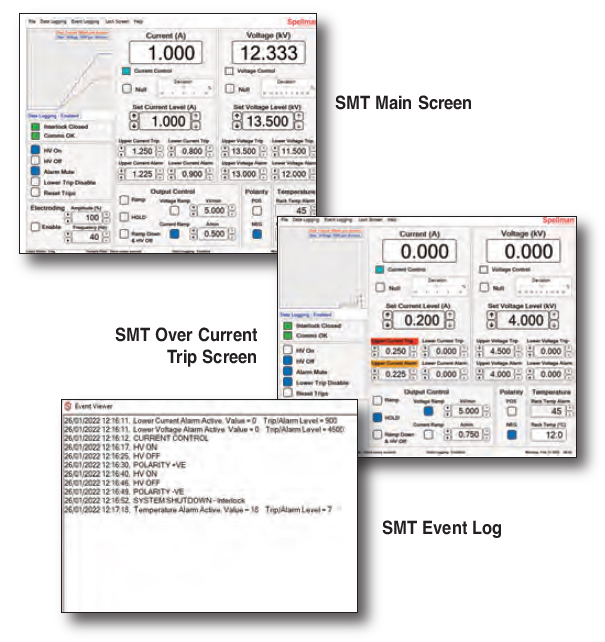 Main Control Unit (MCU):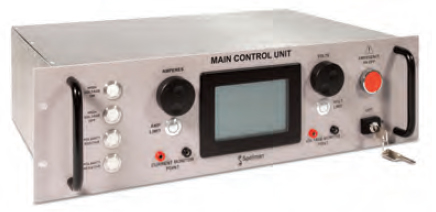 The system can be controlled manually using the MCU front panel controls.
4.2" LCD display
Full output control and monitoring including polarity reversal
Test points for voltage and current
Front panel controls for voltage and current
Ramp rates available: Default: 60kV/min 6A/min. Slow: 500V/min 0.2A/min.
Over volts/current trips
HV and Alarm outputs
Patch Panel:
User configurable interconnects from Converter(s) to Electronic Load or Cable Termination Cubicles (CTC's).
Electronic Load:
Fully isolated and actively adjustable resistance by the user.
Max power: 30kW
Max voltage: ± 15kV @ 2A
Max current: 2.4A @ ±12.5kV
Interlock System:
Full protection for user and connected equipment. All PFE access panels and patch panel connections are interlocked. External connection terminals are provided to allow connection to CTCs, associated equipment or external E-Stop circuits.
Optional Hood (17668-4)
A flange at the rear provides attachment of exhaust ducting, allowing most of the heat dissipated from the system to be transferred outside the immediate environment of the PFE.
Optional Cable Termination Cubicle (CTC12/377)
Facility to safely accommodate half joints and bare cables for installation and repairs. The CTC provides a safe, interlocked enclosure for connection of the PFE HV to the cable conductors. 2 clamps and strain relief allow the fiber core to be separated and safely routed out of the box to external optical equipment.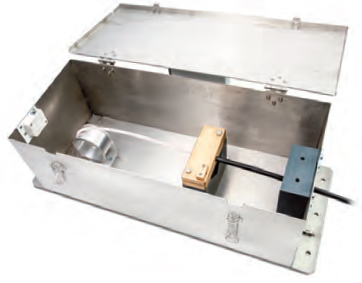 W 27.26˝ [692mm]
D 10.44˝ [265mm]
H 8.27˝ [210mm]
Dimensions: in.[mm]
PFESB6PN12
Weight:
Cabinet 1: 441 lbs. [200kg]
SMT: 33 lbs. [15kg]
Electronic Load: 364 lbs. [165kg]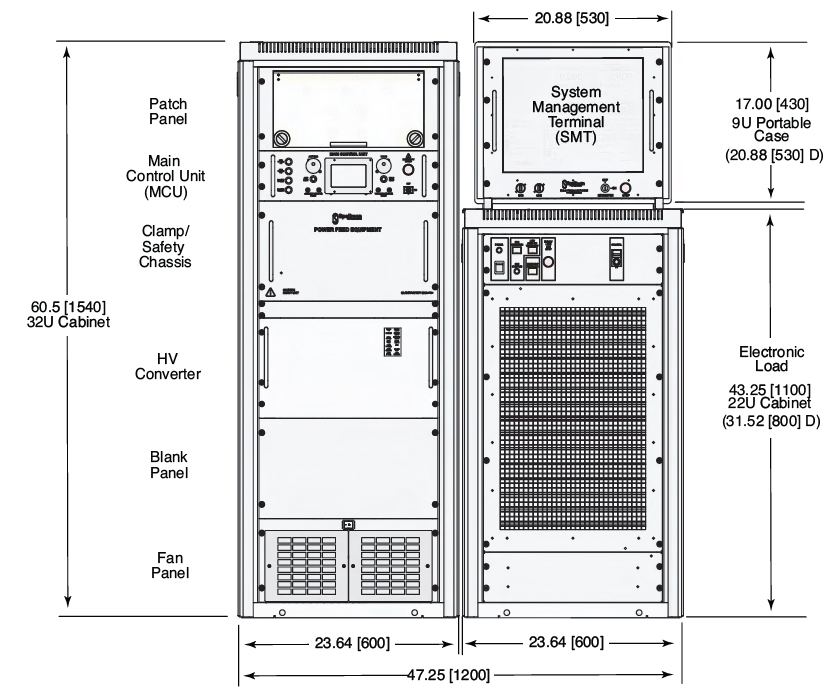 PFESB10PN24
Weight:
Cabinet 1: 1529 lbs. [240kg]
SMT: 33 lbs. [15kg]
Electronic Load: 364 lbs. [165kg]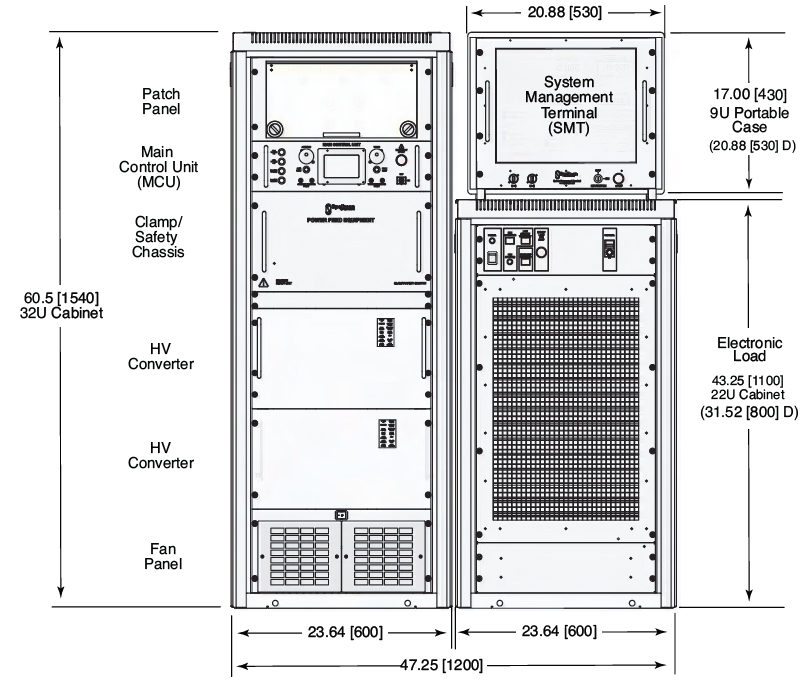 Dimensions: in.[mm]
PFESB15PN36
Weight:
Cabinet 1: 507 lbs. [230kg]
Cabinet 2: 309 lbs. [140kg]
Electronic Load: 364lbs. [165kg]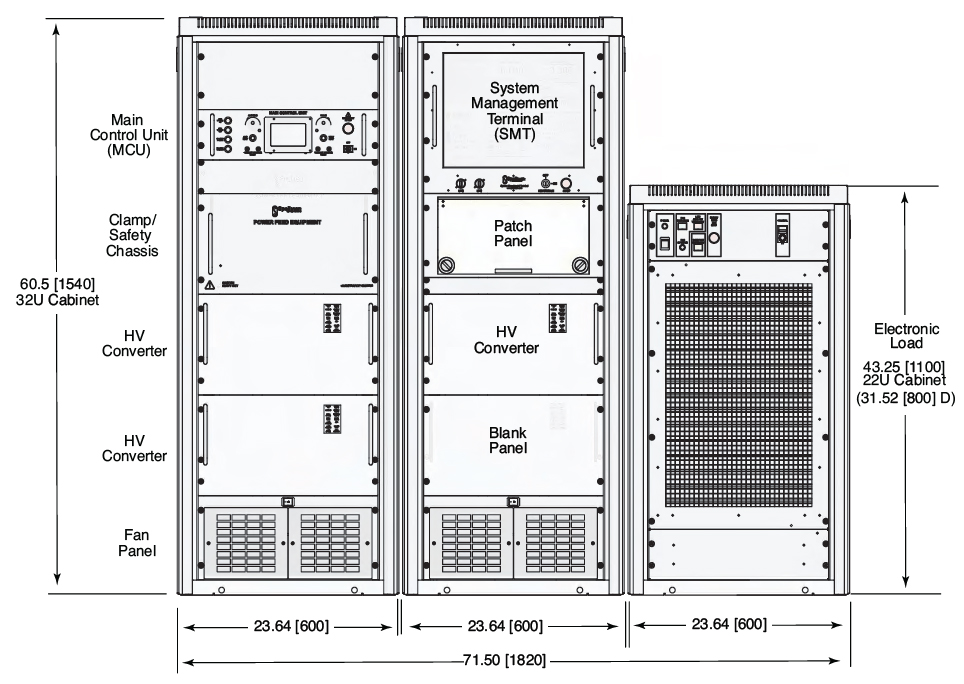 PFESB20PN40
Weight:
Cabinet 1: 507 lbs. [230kg]
Cabinet 2: 419 lbs. [190kg]
Electronic Load: 364lbs. [165kg]