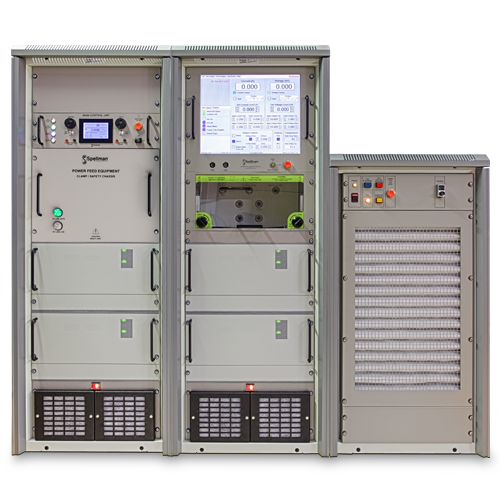 Serie PFE - SB
Versiones de 3kV a 20kV disponibles.
Carga de prueba electrónica local o controlada a distancia capaz de disipar 24 kW
Velocidades de rampa de subida y de bajada para voltaje y corriente.
Funciones de electroding Opcional.
Funciones de electroding programables proporcionadas.
Función de registro de datos integrada
Funciones de alarma y viaje
*Nota: Todas las especificaciones están sujetas a cambios sin previo aviso. Consulte la versión en PDF en inglésde esta hoja de datos para obtener la revisión más actualizada.
Shipborne Power Feed Equipment (PFE)
(Ref. 128144-001 REV. A)
Spellman High Voltage is the leading independent supplier of Power Feed Equipment to the Telecom industry and most frequently utilized power supplies for shipborne uses. Our shipborne Power Feed Equipment (PFE-SB) is known for its reliability and quality. It is used with repeatered fiber optic cable systems for telecommunications and has been installed on numerous cable laying ships around the world.
Specifications:
Output Voltage and Current:
| Voltage | 1 Slave | 2 Slaves | 3 Slaves | 5 Slaves |
| --- | --- | --- | --- | --- |
| 10kV | 1.3A | 2.0A | 2.5A | |
| 12kV | 1.1A | 1.65A | 2.2A | |
| 15kV | 0.8A | 1.2A | 1.6A | |
| 20kV | | 1.0A | | 2.0A |
Note: Each system has 1 Master generator and X Slaves
Input Voltage:
220Vac 3 phase
380/415/440Vac 3 phase via autotransformer
Current Ripple:
10mA peak to peak of maximum output
Voltage Ripple:
0.25% p-p of maximum output, voltage or current regulated
Current Stability:
0.1% (constant load) after a 4 hour warm up
Operating Temperature:
5 to 40°C operating
Storage Temperature:
-40 to +85°C storage
Humidity:
5% to 85%, non-condensing
Cooling:
Forced Air
Dimensions:
68.93"H x 70.86"W x 31.49"D (1751mm x 1800mm x 800mm)
Weight:
900 pounds (410kg)
Regulatory Approvals:
Compliant to 2014/EU (Low Voltage Directive)
Key Features:
Clamp/Safety Chassis:
Protects the repeaters/cable and PFE. A HV relay and dump circuit will quickly and safely discharge the system in case of emergency shutdown.
Output Control:
Using either the Master front panel or SMT; the system output can be operated in constant current or constant voltage control and as a feed for a single end, double end or branched line.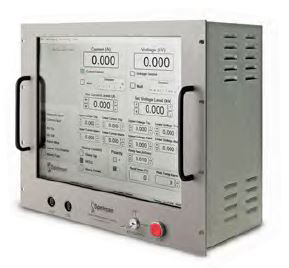 System Management Terminal (SMT):
An advanced touchscreen control and monitoring system, the SMT can be installed within the PFE cabinets or remotely up to 80m from the PFE.
Features include:
Full output control and monitoring
Ramp up and down in current or voltage control User set alarm and trip system|
Output voltage and current logging
Event logging
Tone generator 10-40Hz
Patch Panel:
User configurable interconnects from Converter(s) to Electronic Load or Cable Termination Cubicles (CTC's).
Electronic Load:
Fully isolated and actively adjustable resistance by a user. The electronic load allows input voltages from 600V to 12,000V in either polarity.
Interlock System:
Full protection for user and connected equipment. All PFE access panels and patch panel connections are interlocked. External connection terminals provided to allow connection to CTCs, associated equipment or external E-Stop circuits.
Dimensions: in.[mm]
Typical PFE24SB shown
System Management Terminal (SMT) & Patch Panel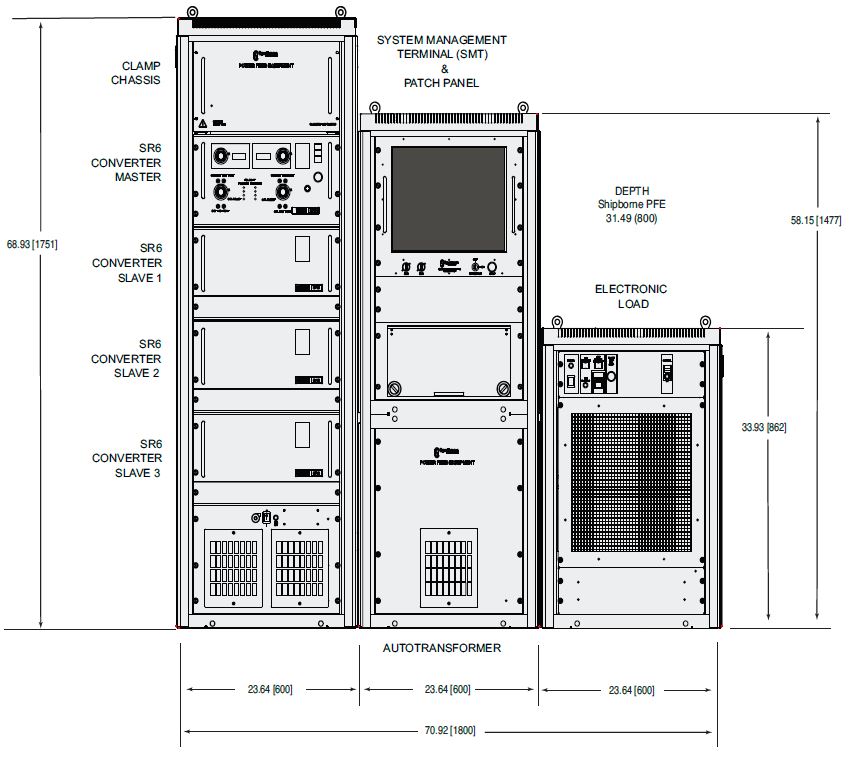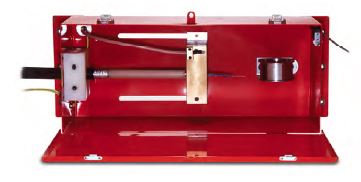 Optional Cable Termination Cubicle (CTC12/377):
Used to safely accommodate half joints and bare cables for installation and repairs. The CTC provides a safe, interlocked enclosure for connection of the PFE HV to the cable conductors. 2 clamps and strain relief allow the fiber core to be separated and safely routed out of the box to external optical equipment.