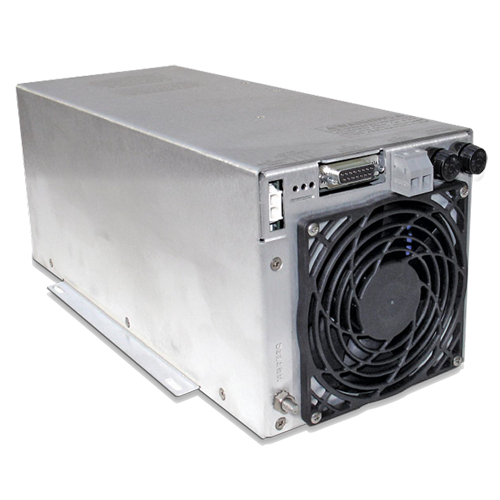 CCM
Compact & Lightweight Package
Power Factor Corrected Input
Low Cost Modular OEM Platform
Rugged IGBT Inverter Design
Auxiliary +24Vdc @ 2.2 Amp Output Provided
*Note: All specifications are subject to change without notice. Please consult the English PDF version of this datasheet for the most up-to-date revision.


4kW Capacitor Charging Module
Spellman's CCM capacitor charging module is designed to provide 3100 joules per second at an output voltage up to 4000 Volts. With a power density of 6.6 watts per cubic inch, the CCM packs more than 30% more power into the same volume when compared to other commercially available units. The power factor corrected AC input, small package size and comprehensive analog interface simplifies integrating the CCM into your OEM system design. Available in either positive or negative polarity, the CCM is fully arc, open and short circuit protected.
Typical applications:
UV light sources for curing and sterilization
Industrial and medical laser applications
ICP-MS applications
(Ref. 128054-001 REV. N)
Input Voltage:
Power factor corrected input ≥0.98
180-264Vac @ 20.3A, 47-63Hz, fused via externally
accessible fuses
Efficiency:
>85%
Output Power:
3100 Joules per second, average
Output Voltage:
4000 Volts, maximum
Output Polarity:
Positive
Pulse to Pulse Repeatability:
±0.6% up to 120 Hertz
Temperature Coefficient:
≤ 100ppm per degree C
Fault Diagnostic System:
Over Temperature, Over Voltage and Open Load sensing
Environmental:
Temperature Range:
Operating: 0°C to 40°C
Storage: -40°C to 85°C
Humidity:
10% to 90% RH, non-condensing
Cooling:
Forced air
Ground Stud:
M6 X10mm, M6 nut supplied
Input Line Connector:
2 position Phoenix HDFK4 connector
HV Output Connector:
Kings KV-79-15, Bulkhead mounted
+24Vdc Output Connector:
AMP #1-350942-0
Dimensions:
5.81. H X 5.8. W X 14. D (148mm x 147mm x 356mm)
Weight:
14.5lb. (6.6kgs)
Regulatory Approvals:
UL/CUL recognized file E227588
AUXILIARY +24VDC CONNECTOR J2 POSITION AMP CONNECTOR
| Pin | Signal | Signal Parameters |
| --- | --- | --- |
| 1 | +24Vdc | +24Vdc @ 2.2 amps |
| 2 | Ground | Ground |
CCM ANALOG INTERFACE— J1 15 PIN FEMALE D CONNECTOR
Pin
Signal
Signal Parameters
1
Inhibit
Ground = HV ON, High = HV OFF
2
Temperature Fault
Ground = No Fault, +15Vdc = Fault
+15Vdc through 6.8kΩ
3
General Fault
Ground = No Fault, +15Vdc = Fault
+15Vdc through 6.8kΩ
4
HV ON Indicator
Ground = HV ON, +15Vdc = HV OFF
+15Vdc through 6.8kΩ
5
Voltage Program
0 to 10Vdc = 0 to 100% Rated Output
6
Open Circuit Detector
Ground = Open Circuit, +15Vdc = OK
+15Vdc through 6.8kΩ
7
Peak Voltage Monitor
0 to 10Vdc = 0 to 100% Rated Output
held for 10 seconds at peak level
8
Voltage Monitor
0 to 10Vdc = 0 to 100% Rated Output,
Instantaneous output
9
+15Vdc Output
+15Vdc @ 150ma output, maximum
10
n/c
n/c
11
+15Vdc Output
+15Vdc @ 150ma output, maximum
12
+15Vdc Output
+15Vdc @ 150ma output, maximum
13
End of charge Indicator
Ground = End of Charge, High Impedance = Charging
14
Ground
Ground
15
Ground
Ground
How to Order:
Standard: PART NO.: CCM4P3100
DIMENSIONS: in.[mm]
FRONT VIEW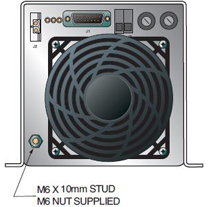 TOP VIEW
BACK VIEW