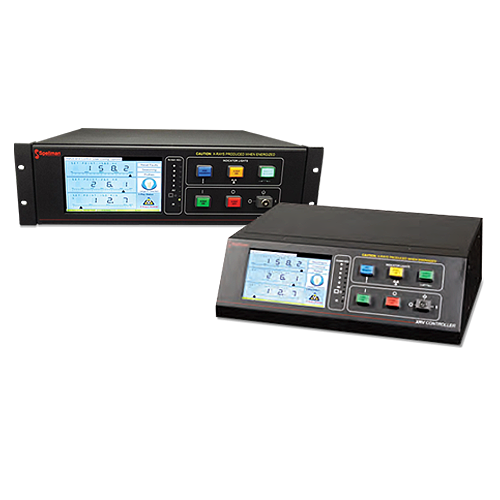 XRVC
Intel Atom N270 CPU @ 1.6GHz
1GB Ram
7" Touch Screen LCD @ 800 x 600
Intel 945 Express Graphics
10/100/1000Mbit Ethernet
RS-232 Serial Ports
160GB Internal Hard Drive
*Note: All specifications are subject to change without notice. Please consult the English PDF version of this datasheet for the most up-to-date revision.

X-Ray Controller
The XRV Controller (XRVC) provides intuitive, touch screen driven programming and control of any of Spellman's pop­ular XRV Series of X-Ray generators. This sophisticated and robust controller was designed using an embedded computing system running a custom Graphical User Interface (GUI). The GUI, embedded computer and ancil­lary hardware are housed in a rugged 5.25 inch tall (3U) rack mount chassis. Capability of the XRVC include: cre­ation of custom X-Ray tube seasoning profiles, one shot or continuous user fabricated operational profiles, auto­matic X-Ray tube configuration and much more.
(Ref. 128094-001 REV. D)
SOFTWARE FEATURES
Designed for compact, touch centric environment
Integrated on screen keyboard provides rich input capabilities for operation without an external keyboard
Adaptive software detects XRV controller and configures accordingly
Dynamic feedback allows control of unit with real time viewing of the output
Seasoning Screen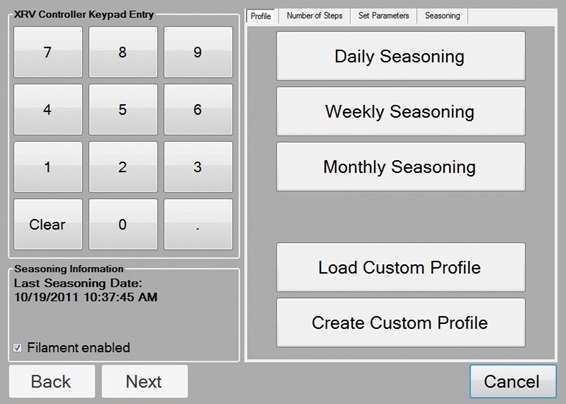 Status and Control Screen
ADVANCED CONTROLLER FUNCTIONALITY
Seasoning
Ability to create, save and load customized seasoning profiles (Default profiles are included)
Real time seasoning progress, elapsed time and remaining time clocks
Automatic notice when seasoning is required
Communications
Ability to communicate with the XRV over RS-232 serial port
Ability to communicate with the XRV over a direct crossover Ethernet connection or Ethernet switch
One Shot Profiles
Ability to create, save and load customized one shot profiles
Verification of profiles within the operating capabilities of the connected XRV unit
X-Ray Tube Selection
Specific X-Ray tubes automatically configures the system with the recommended manufacturers operational profiles
Supported tubes for automatic configuration can be uploaded into the XRVC
Easy to Use
Intuitive, touch-centric, menu driven system allows operator use with little to no learning curve.
Communication settings are retained by the XRVC, requiring only a single configuration session.
Comprehensive status/control screen provides information on all critical operational parameters and system status indicators.
SPECIFICATIONS
Input Voltage:
180-264Vac, 50/60Hertz
Dimensions:
Rack mount:
5.25"H x 19"W x 13"D (133.35mm x 482.6mm x 330.2mm)
Bench top:
5.21"H x 17"W x 13"D (132.35mm x 431.8mm x 330.2mm)
Weight:
12 lbs (5.44kg)
Input Power Connector:
14 pin circular connector type 97-3102A-22-19P
Environmental:
Temperature Range:
Operating: 0°C to +50°C
Storage: -20°C to +80°C
Humidity:
0% to 95% RH
Cooling:
Convection cooled
Regulatory Approvals:
Compliant to EEC EMC Directive. Compliant to EEC Low Voltage Directive. RoHS Compliant
Frequently Asked Questions
What Are the Bandwidth Capabilities of the HVD Series of High Voltage Dividers?