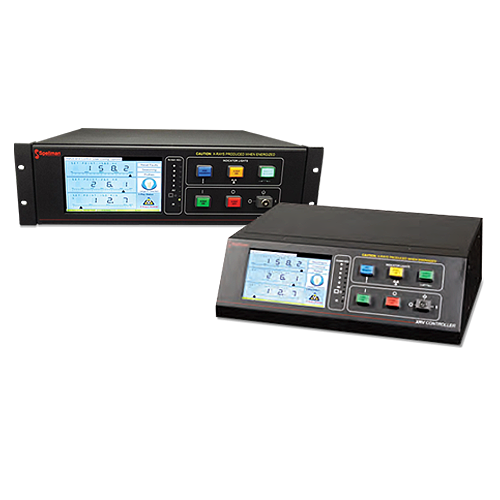 SERIE XRVC
CPU Intel Atom N270 a 1.6 GHz
1 GB RAM
Pantalla LCD táctil de 7" (177.8 mm) con resolución de 800 X 600
Gráficos Intel 945 Express
Ethernet 10/100/1000 Mbps
Puertos seriales RS-232
Disco duro interno de 160 GB
CONTROLADOR DE RAYOS X
El controlador XRV (XRVC) proporciona programación y control intuitivos mediante una pantalla táctil para cualquiera de los populares generadores de rayos X de la serie XRV de Spellman. Este sofisticado y robusto controlador fue diseñado utilizando un sistema de computación integrado que ejecuta una interfaz gráfica de usuario (GUI) personalizada. La GUI, la computadora integrada y el hardware auxiliar están alojados en un chasis resistente para montaje en bastidor de 5.25 pulgadas (133.35 mm) de alto (3U). La capacidad de la XRVC incluye: creación de perfiles de acondicionamiento del tubo de rayos X personalizados, perfiles de operación de un disparo o continuos elaborados por el usuario, configuración automática del tubo de rayos X y mucho más.
(Ref. 128094-001 REV. D)
SOFTWARE FEATURES
Designed for compact, touch centric environment
Integrated on screen keyboard provides rich input capabilities for operation without an external keyboard
Adaptive software detects XRV controller and configures accordingly
Dynamic feedback allows control of unit with real time viewing of the output
Seasoning Screen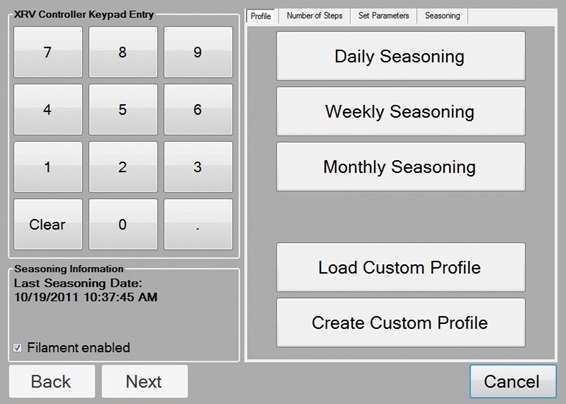 Status and Control Screen
ADVANCED CONTROLLER FUNCTIONALITY
Seasoning
Ability to create, save and load customized seasoning profiles (Default profiles are included)
Real time seasoning progress, elapsed time and remaining time clocks
Automatic notice when seasoning is required
Communications
Ability to communicate with the XRV over RS-232 serial port
Ability to communicate with the XRV over a direct crossover Ethernet connection or Ethernet switch
One Shot Profiles
Ability to create, save and load customized one shot profiles
Verification of profiles within the operating capabilities of the connected XRV unit
X-Ray Tube Selection
Specific X-Ray tubes automatically configures the system with the recommended manufacturers operational profiles
Supported tubes for automatic configuration can be uploaded into the XRVC
Easy to Use
Intuitive, touch-centric, menu driven system allows operator use with little to no learning curve.
Communication settings are retained by the XRVC, requiring only a single configuration session.
Comprehensive status/control screen provides information on all critical operational parameters and system status indicators.
SPECIFICATIONS
Input Voltage:
180-264Vac, 50/60Hertz
Dimensions:
Rack mount:
5.25"H x 19"W x 13"D (133.35mm x 482.6mm x 330.2mm)
Bench top:
5.21"H x 17"W x 13"D (132.35mm x 431.8mm x 330.2mm)
Weight:
12 lbs (5.44kg)
Input Power Connector:
14 pin circular connector type 97-3102A-22-19P
Environmental:
Temperature Range:
Operating: 0°C to +50°C
Storage: -20°C to +80°C
Humidity:
0% to 95% RH
Cooling:
Convection cooled
Regulatory Approvals:
Compliant to EEC EMC Directive. Compliant to EEC Low Voltage Directive. RoHS Compliant
Frequently Asked Questions
What Are the Bandwidth Capabilities of the HVD Series of High Voltage Dividers?