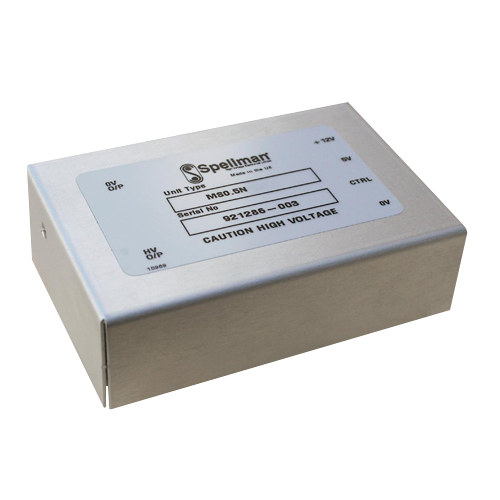 MS Series
Low Cost

Output Voltages up to 3kV

3 Watts Power Rating

Positive or Negative Polarity

Arc and Continuous Short Circuit Protected

Low Stored Energy

High Reliability

Internal 5V Reference

OEM Customization Available
*Note: All specifications are subject to change without notice. Please consult the English PDF version of this datasheet for the most up-to-date revision.

3W DC-DC High Voltage Power Supplies
Spellman's MS Modules have been designed for printed circuit board mounting with high reliability, small size and light weight. The MS 3W modules provide well regulated, low ripple, high stability output voltages ranging from 300V to 3kV in a versatile, compact and cost-effective design. The modules incorporate remote control and arc & short-circuit protection. Radiated pickup is eliminated by sealing each module in an aluminum enclosure.
TYPICAL APPLICATIONS
Photomultiplier Tubes
Precision Lenses
Image Intensifiers
Nuclear Instruments
Spectroscopy
(Ref. 128018-001 REV. N)
OPTIONS
I Isolated Input to Output
Maximum Isolation Voltage:
40V for units ≤1kV
100V for units >1kV
Note: this option is only available for certain models, please consult Spellman for availability.
SPECIFICATIONS
Input Voltage:
+12Vdc ±1V. Other input voltages also available.
Input Current:
< 0.56A at full output.
Output Voltage:
Continuously adjustable over each entire range Models available in either positive or negative polarity. See table for voltage ranges.
Output Voltage Control:
Remote voltage programming such that 0-5Vdc gives 0 to full rated output
Output Power:
3W continuous
Load Regulation:
< 0.05% for 100μA to full load change. (at max. voltage)
Output Voltage Control:
Remote voltage programming such that 0-5Vdc
gives 0 to full rated output
Output Power: 3W continuous.
Voltage Regulation:
Line: 0.005% for input change of 1V (<0.01% for MS0.3 units)
Load: 0.05% for 100µA to full load change at maximum voltage. (<0.1% for MS0.3 units)
Ripple: See MS selection table
5Vdc Reference: +5.0V (±0.2V). A maximum of 1mA can be drawn from this output.
Temperature:
Operating: 0°C to +50°C.
Storage: -35°C to +85°C.
Temperature Coefficient: 50ppm/°C typical.
Stability:
< 0.05%/8 hrs at constant operating conditions after one hour warm-up.
Humidity: 0 to 90% non-condensing.
Dimensions:
Units ≤1kV:
.87"H x 2.1"W x 3.1"D (23mm x 53mm x 78mm).
Units >1kV:
1.1"H x 2.36"W x 4.2"D (28mm x 60mm x 106mm).
Weight:
Units ≤1kV: 0.2lb (80g).
Units >1kV: 0.4lb (160g).
Regulatory Approvals:
Compliant to EEC Low Voltage Directive. UK Conformity Assessed. RoHS Compliant.
MS SELECTION TABLE
| Output Voltage (V) | Output Current (mA) | Ripple V (p‑p) | Model |
| --- | --- | --- | --- |
| 300 | 10 | 0.03 | MS0.3* |
| 500 | 6 | 0.05 | MS0.5* |
| 750 | 4 | 0.075 | MS0.75* |
| 1000 | 3 | 0.10 | MS1* |
| 1500 | 2 | 0.15 | MS1.5* |
| 2000 | 1.5 | 0.20 | MS2* |
| 2500 | 1.2 | 0.25 | MS2.5* |
| 3000 | 1 | 0.30 | MS3* |
How to Order:
MSXX*12/C/I
Where:
XX is the Output voltage (see selection table)
* is the polarity: P for positive / N for negative 12 is the input voltage. This is 12V /I is the floating output option., if required.
Examples: MS2P12/C, MS0.3P12/C/I
DIMENSIONS: in.[mm]
UNIT UP TO 1000V
SIDE VIEW
BOTTOM VIEW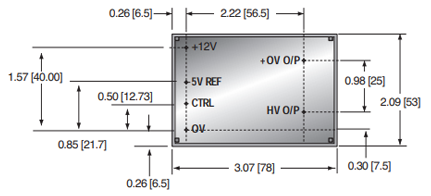 UNIT > 1000V UP TO 3000V
SIDE VIEW

BOTTOM VIEW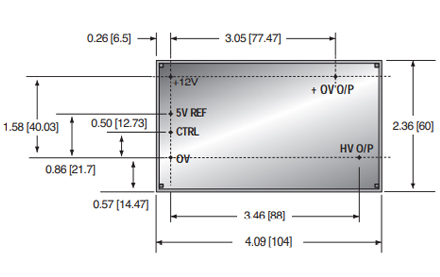 View on pins. Recommended hole size for terminals 1mm.
Frequently Asked Questions
What Is a Safe Level of High Voltage?
Where Can I Obtain Information on High Voltage Safety Practices?
How Should I Ground Your Supply?
Why Is Arcing an Issue for a High Voltage Power Supply?