Spellman's Introduces New EBM-TEGR, Rack Mountable Triode High Voltage Power Supply for Thermionic SEM
An Integral Solution Powering Thermionic SEM in a 19" Rack Mountable Chassis
February 02, 2023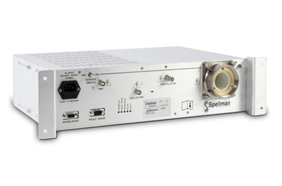 Hauppauge, NY – Spellman High Voltage Electronics Corp, the world's leading high voltage power supply, X-Ray generator and Monoblock® X-Ray source manufacturer, introduces the latest in our comprehensive portfolio of triode high voltage power supplies specifically designed to drive Thermionic Scanning Electron Microscopes (SEM). The new EBM-TEGR offers digital communication, a rack-mount 19" chassis, and higher output power on the Accelerator/Grid Outputs. Spellman's proprietary packaging and encapsulation technology provide dramatic improvements in size, cost and performance compared to other SEM power supply offerings.
The EBM-TEGR provides a high precision, low noise, ultra-stable Accelerator supply programmable up to -30kV at 400uA. This, together with Floating Filament and Grid supplies, referenced to the Accelerator, control the beam. The unit also includes high voltage outputs to drive the Detector, comprising PMT, Scintillator and Collector grounded outputs. Customer control of this integrated EBM-TEGR power supply system is accomplished digitally via RS-232 or the optional RS-485 interface. Five interlocks are provided.
Spellman's extensive application knowledge and unique design capabilities have enabled the development of a comprehensive range of high precision, low noise, ultra-stable technology platforms that can be customized to meet the demanding requirements of Thermionic SEM. These include the EBM-TEG, the EBM20N5/24 and now the EBM-TEGR. Additionally, our global technical support centers provide rapid local response to customer needs.
The units are over current/voltage protected as well as arc and short circuit protected. They are also UL, UKCA and RoHS compliant. OEM customizations are available.
Detailed technical information and datasheet on the EBM-TEGR can be found here.
Detailed Information Available
Detailed technical information and datasheets on these or any of Spellman's wide range of high voltage products is available by contacting sales@spellmanhv.com or by visiting Spellman's website: www.spellmanhv.com.
Spellman High Voltage Electronics is the world's leading provider of custom designed and standard AC-DC and DC-DC high voltage power converters and Monoblock® X-Ray sources for medical, industrial, semiconductor, security, analytical, laboratory, and under-sea cable power-feed applications. With design, manufacturing and service facilities in the US, UK, Mexico, China and Japan, and direct sales offices throughout Europe, Asia and North America, Spellman is committed to supporting advanced system providers and their customers throughout the world.