Spellman Introduces the New MCP4 High Precision Floating High Voltage Power Supply
July 30, 2020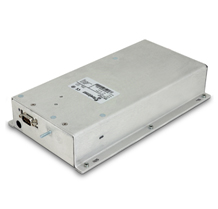 Spellman High Voltage Electronics Corp, the world's leading high voltage power supply, X-Ray generator and Monoblock® X-Ray source manufacturer, announces the introduction of the new high precision floating HVPS, the MCP4. Spellman's MCP4 is a well-regulated, high performance DC-DC converter featuring a floating 4kV @ 600uA output, isolated to 15kV. The MCP4 low output ripple specification and high stability make it ideal for use with detectors in Mass Spectrometry applications such as: Electron Multi¬pliers (EM's), Microchannel Plates Detectors (MCP's) and Channel Electron Multipliers.
The MCP4 provides more voltage, more current, higher stability and significantly less noise than the previous generation MCP. An important but overlooked specification is induced ripple; floating PSUs often push significant noise into the HVPS upon which they float, compromising the output quality. The MCP4 employs an advanced topology, whilst generating its own output, will not compromise the output quality of the connected HVPS.
This module is packaged in a shielded metal enclosure and the high voltage output is provided via two captive one meter long shielded coaxial cables. The unit has remote 0-10Vdc = 0-100% rated voltage programming and voltage monitor. A TTL compliant Enable signal provides simple control of the high voltage output. This unit has specifically designed to minimize crosstalk with the high voltage source which it is floated upon.
The MCP4 can be customized to meet OEM requirements.
Typical Applications Include
:
Mass Spectrometry Detectors
Microchannel Plates
Electron Multipliers
Channel Electron Multipliers
Detailed technical information and datasheet on the MCP4 Series can be found here.
For further information on this or any of Spellman's wide range of high voltage products contact sales@spellmanhv.com or visit Spellman's website: www.spellmanhv.com
Spellman High Voltage Electronics is the world's leading provider of custom designed and standard AC-DC and DC-DC high voltage power converters and Monoblock® X-Ray sources for medical, industrial, semiconductor, security, analytical, laboratory, and under-sea cable power-feed applications. With design, manufacturing and service facilities in the US, UK, Mexico, China and Japan, and direct sales offices throughout Europe, Asia and North America, Spellman is committed to supporting advanced system providers and their customers throughout the world.