Spellman's China Facility Receives ISO 13485:2003 and EN ISO 13485:2012 Certifications for Medical Equipment Production Facilities
Certifications Enhance Strategic Focus on Worldwide Sales
June 21, 2017
Suzhou Industrial Park, PRC – Spellman High Voltage Electronics Corporation, the world's largest independent manufacturer of custom high voltage power conversion products and X-ray sources, announces that its Suzhou PRC based manufacturing facility is now ISO 13485:2003 and EN ISO 13485:2012 certified.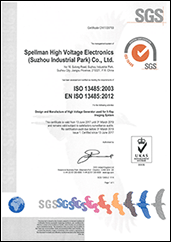 Spellman's VP, Sales APAC, Robert Frankland commented: "These certifications are an invaluable part of our commitment to our customers around the world and position us well for continued growth in the global medical equipment market".
An independent, non-governmental international organization with a membership of 163 national standards bodies, ISO experts develop International Standards that support innovation and provide solutions to global challenges in almost every industry, from technology, to food safety, to agriculture and healthcare, impacting virtually everyone, everywhere.
The primary objective of ISO 13485:2003 is to establish medical device regulatory requirements for quality management systems involved in the manufacture of medical devices and related services. Both standards put emphasis on regulatory requirements, custom requirements, risk management and maintaining effective processes such as safe design, manufacture and distribution of medical devices. EN ISO 13485:2012 is only applicable to manufacturers placing medical devices on the market in Europe. ISO 13485:2003 remains the applicable standard for all other international markets, including the U.S.
Spellman's Suzhou facility, now expanded to 5026 square meters, will continue to serve as Spellman headquarters in the Asia Pacific region, with production, repair services and engineering based there. Serving as Spellman's Asian hub, the facility supports customers across Asia, South Asia, Pacific Rim and India. Suzhou is Spellman's center for production of Digital Radiographic generators, Mammographic generators, C-arm monoblocks, Bone Densitometry monoblocks and Computed Tomography generator service and support. In addition to Suzhou PRC, Spellman's presence in the region includes offices in Japan, Korea and India.
Information on Spellman and our many products is available by visiting our website:
www.spellmanhv.com
.
Spellman High Voltage Electronics is the world's leading independent manufacturer of high voltage power supplies, DC-DC converters and power systems for medical and industrial applications, semiconductor manufacturing, scientific instrumentation, telecommunications, X-ray and automatic test equipment. We specialize in providing custom designs to suit unique requirements. Spellman is headquartered in the U.S. and has facilities in the Mexico, Europe, Japan and China that provide design, manufacturing and service to our customers throughout the world.