National Prize of Power and Light Saving Awarded to Spellman de Mexico
May 01, 2017
Matamoros, Mexico - The Mexican Government, through the Federal Commission of Electricity (CFE) and Secretary of Energy (SENER), awarded Spellman de Mexico, S.A, de CV the Second Place Award in the National Prize of Power and Light Saving competition.
The award is an annual public recognition for industries, businesses, services, micro and small shops, educational institutions and research centers that prove outstanding efforts and achievements in the rational and efficient consumption of electricity during the preceding year.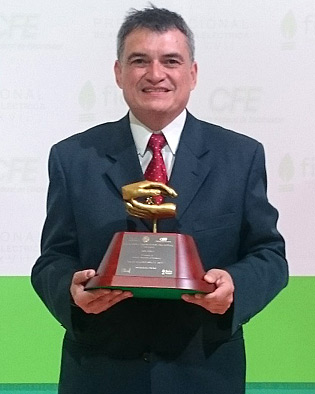 The total number of participants since its creation is 1,366, representing a grand total saving of 2,307 GWh/year.
Spellman de Mexico, S.A. de C.V. applied for Category B, middle size industry, and was awarded 2nd. Place for the XVII edition, calendar year 2016.

Achievements:
Installation of a high efficiency gas chiller
Air conditioning Automatization
Lighting control and automatization
Power Factor correction
Automatized system for power demand
Dry-fall white water base paint applied on ceilings and structures
Courses, training sessions and seminars to personnel on saving and efficient use of electricity
Benefits:
Before: 3,315,937 kWh/year
Current: 2,214,684 kWh/year
Consumption reduction: -33.21%
Demand reduction: -40.30%
Decrease of energetic index: -36.39%
CO2 emission reduction: 632 Tons
These achievements in energy efficiency help the electric production sector to reduce the need to expand or build new generating plants as well as transmission and distribution systems, allowing the transfer of excess production to society in general.
Spellman High Voltage Electronics is the world's leading provider of high performance, custom and standard DC high voltage power converters and Monoblock® X-Ray sources for medical, industrial, semiconductor, security, analytical, laboratory and under-sea cable power-feed applications. As a global supplier with strategically located design and manufacturing facilities in North America, Europe and Asia, Spellman is committed to providing best-in-class support to OEM customers and end-users throughout the world.
Additional information on Spellman and their wide range of high voltage products is available at: www.spellmanhv.com.