Spellman High Voltage Electronics Introduces New VMX Series X-Ray Generator
New Compact, High Performance X-Ray Generator for Mammography
August 21, 2014
Hauppauge, New York - Spellman High Voltage announces the introduction of its new VMX Series high performance, low cost Mammography X-Ray generator. The VMX is designed from an integrated application perspective to optimize the clinical performance of today's full field digital Mammography diagnostic systems. The compact VMX meets the critical specifications at the price point that medical OEM's require for value oriented systems.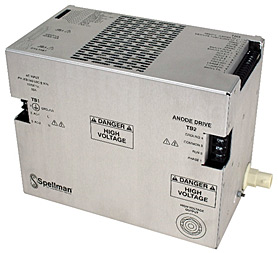 The 40kV/5kW X-Ray generator includes a dual filament power supply and a dual speed starter. A DC current source filament power supply provides fast rise times with stable and accurate X-ray tube emission current. The solid encapsulated high voltage output section eliminates oil concerns. Flexibility in interfacing is provided via RS-232 and optional Ethernet connectivity.
The VMX supports advanced mammography application features such as SMART AEC Exposure, Automatic Filament Calibration, Tube Anode Heat Calculator and a user configurable Tube Library. The VMX is a full featured, high performance, low cost next generation X-ray generator suited to the demands of the diagnostic Mammography system manufacturer.
To learn more about VMX X-ray generator and their many benefits and features contact your local Spellman Sales Office or our applications support staff at 631-630-3000.
Spellman High Voltage Electronics is the world's leading provider of high performance, custom and standard DC high voltage power converters and Monoblock® X-Ray sources for medical, industrial, semiconductor, security, analytical, laboratory and under-sea cable power-feed applications. As a global supplier with strategically located design and manufacturing facilities in North America, Europe and Asia, Spellman is committed to providing best-in-class support to OEM customers and end-users throughout the world.
Additional information on Spellman and their wide range of high voltage products is available at:
www.spellmanhv.com