Spellman Introduces X-Ray Sub-Systems for Industrial NDT, Security and Medical Applications
October 16, 2013
Valhalla, New York – Spellman High Voltage Electronics Corporation, the world's leading manufacturer of custom high voltage power conversion products, introduces X-Ray sub-systems, featuring its industry leading XRV high voltage generators, available in unipolar and bipolar, 160 to 450kV, 1.8-6kW.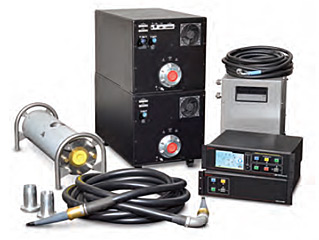 By combining the robust XRV generator with industry leading Metal Ceramic X-Ray tubes, tube coolers/chillers and HV cables, Spellman provides a flexible, cost effective solution for many applications.
Customers select cable lengths and standard or spring loaded connectors to integrate the generator, X-Ray tube, digital touch screen controller, I/O box, cooler and all other accessories, providing a "plug and play" X-Ray sub-system.
Spellman's XRV generators, used by OEMs and X-Ray integrators around the world, are the most compact and lightest available in the market. Featuring superior stability, low ripple, integrated dual filament supplies, digital interface, comprehensive fault diagnostics and protection circuitry, the XRV series has become the generator of choice in CR, DR and Industrial CT applications. The XRV datasheet can be downloaded here:
To learn more about XRV X-Ray sources and their many benefits and features contact Spellman's applications support staff at 631-630-3000.
Spellman High Voltage Electronics is the world's leading provider of high performance, custom and standard DC high voltage power converters and Monoblock® X-Ray sources for medical, industrial, semiconductor, security, analytical, laboratory and under-sea cable power-feed applications. As a global supplier with strategically located design and manufacturing facilities in North America, Europe and Asia, Spellman is committed to providing best-in-class support to OEM customers and end-users throughout the world.
Additional information on Spellman and their wide range of high voltage products is available at: www.spellmanhv.com