Spellman High Voltage Using Solar Power at its Long Island, NY Manufacturing Facilities
July 20, 2012
July 20, 2012 – Hauppauge New York – Spellman High Voltage Electronics Corporation, the world's leading manufacturer of custom high voltage power conversion products, announces the installation and commissioning of 100kW's of photovoltaic solar panel arrays at its Hauppauge and Bohemia manufacturing facilities. The two systems cover 9,550 square feet and can produce approximately 162,000 kilowatts of clean electricity annually, preventing over 225,000 pounds of CO2 from being generated yearly.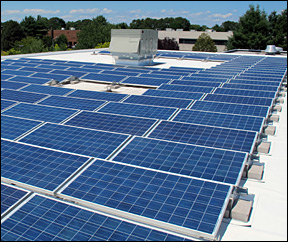 According to Dr. Loren Skeist, President of Spellman High Voltage Electronics, "These solar panel installations generate electricity for our two Long Island facilities utilizing the power of the sun; a clean, non-polluting, renewable resource. We're proud of the energy conservation results obtained, and of our continuing efforts to further reduce Spellman's operational carbon footprint. Responsible environmental stewardship is a core value of Spellman's business practices."
Spellman supports green initiatives and demonstrates its commitment to sustaining the environment by maintaining ISO14001:2004 certification and comprehensive programs to improve energy efficiency, promote recycling, and the elimination of the use of hazardous substances.
Information on Spellman and their wide range of high voltage products is available by calling us at +1-631-630-3000, or by visiting our website: www.spellmanhv.com.
Spellman High Voltage Electronics is the world's leading provider of custom designed and standard AC-DC and DC-DC high voltage power converters for: medical, industrial, analytical, and security applications; semiconductor manufacturing; scientific instrumentation; and power feed systems for undersea cables. Spellman is headquartered in the U.S. and has facilities in Japan, Mexico, Europe, and China that provide design, manufacturing and service to our customers throughout the world.