Spellman Hosts "Open House" for NYIT Engineering Students
October 16, 2009
Hauppauge New York – Spellman High Voltage Electronics Corporation, the world's leading manufacturer of custom high voltage power conversion products, hosted a factory tour for New York Institute of Technology's (NYIT) chapter of the National Society of Black Engineers (NSBE) on Friday October 2, 2009.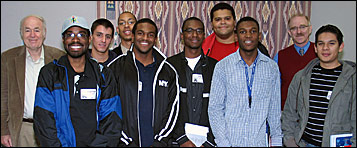 Eight NSBE members ranging from 1st to 3rd year engineering students visited Spellman's main Hauppauge facility with their faculty advisor, Dr. Edward Kafrissen, of the Department of Computer and Electrical Engineering at NYIT.
Spellman engineering personnel presented a corporate orientation, factory tour, reviewed internship opportunities and various engineering career paths with the group.
Loren Skeist, MD, President of Spellman stated, "We are pleased to assist local universities in the preparation of the next generation of Long Island's engineers. Further collaborative efforts are essential to allow high-tech industry to continue to thrive here on Long Island".
Information on Spellman and their wide range of high voltage products is available by calling +1-631-630-3000, or by visiting their website: www.spellmanhv.com
Spellman High Voltage Electronics is the world's leading provider of custom designed and standard AC-DC and DC-DC high voltage power converters for: medical, industrial, analytical, and security applications; semiconductor manufacturing; scientific instrumentation; and power feed systems for undersea cables. Spellman is headquartered in the U.S. and has facilities in Japan, Mexico, Europe, and China that provide design, manufacturing and service to our customers throughout the world.