Spellman Expands its Mexican Operations
December 04, 2009
Spellman High Voltage Electronics Corporation, the world's leading manufacturer of custom high voltage power conversion products, announces the expansion of its Matamoros, Mexico operations.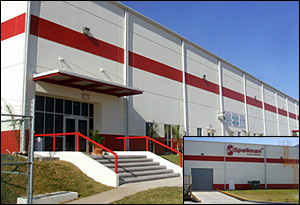 As a direct result of Spellman's focus on cycle time, quality improvement and cost reduction, Spellman de Mexico's Plant 2 facility, (which opened for operation March 2008), has added 25,000 square feet (2320 square meters) to expand metal fabrication and bring plating activities in-house. Spellman's total manufacturing footprint in Matamoros is now 150,000 square feet (13,935 square meters).
David Gillispie, Vice President of Operations said, "In this business climate, the Matamoros expansion illustrates the success we've had improving our vertically integrated, high mix manufacturing efficiencies. It is essential for us to continuously drive down our costs while reducing lead times to support our customers in their global markets. We look forward to continued success in providing our customers with the highest quality and most cost-effective, high-voltage switching power supplies in the industry."
Information on Spellman and their wide range of high voltage products is available by calling +1-631-630-3000, or by visiting their website: www.spellmanhv.com
Spellman High Voltage Electronics is the world's leading provider of custom designed and standard AC-DC and DC-DC high voltage power converters for: medical, industrial, analytical, and security applications; semiconductor manufacturing; scientific instrumentation; and power feed systems for undersea cables. Spellman is headquartered in the U.S. and has facilities in Japan, Mexico, Europe, and China that provide design, manufacturing and service to our customers throughout the world.