Spellman Launches New Japanese Language Website
August 29, 2008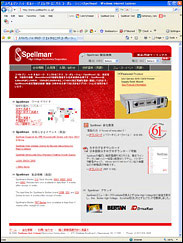 August 29, 2008 -- Spellman High Voltage Electronics Corporation (Hauppauge, NY) is proud to announce the launch of their new Japanese language website. The launch of this new web site, www.spellmanhv.co.jp, marks a milestone achievement in expanding Spellman's market presence into Japan, one of the largest and the most competitive industrial markets in the world.
Spellman's primary goal is to assist Japanese engineers in discovering the company's high voltage products, by providing them with a comprehensive, user-friendly website tailored to the Japanese market.
The launch is strategically planned to coincide with Spellman's premiere exhibition at the 2008 JAIMA Show at Makuhari Messe in Chiba, from September 3rd through September 5th. Spellman High Voltage will be one of 350 companies/organizations exhibiting this year.
This resourceful tool allows Japanese users to select products from a parametric search engine, wherein the user can search the Spellman product line by power and/or voltage requirements. In addition, an extensive Product/Application Matrix, which is a detailed grid of the entire Spellman product line, provides an equally useful search methodology. The new website offers an online Request for Quotation form, which simplifies the process for Japanese users to obtain price proposal on selected products.
According to Eric Marko, VP Sales/Marketing, "The launch of our new Japanese language website is a major milestone in our effort to expand the Spellman brand in one of the most important world markets. Now, Japanese engineers will be able to easily specify high voltage products by quickly accessing our comprehensive high voltage catalog and other technical resources at www.spellmanhv.co.jp. We are very excited about this major step in our long-term commitment to growth in the Japanese market."
For information on JAIMA Show 2008, please visit them on the web at http://www.jaimashow.jp/english/index.html Technical literature and additional information on all Spellman products is available by calling Spellman High Voltage at (631) 630-3000.
Spellman High Voltage Electronics is the world's leading provider of custom designed and standard AC-DC and DC-DC high voltage power converters for: medical, industrial, analytical, and security applications; semiconductor manufacturing; scientific instrumentation; and power feed systems for undersea cables. Spellman is headquartered in the U.S. and has facilities in Japan, Mexico, Europe, and China that provide design, manufacturing and service to our customers throughout the world.