Spellman High Voltage Announces Introduction of New UMW Series
November 03, 2008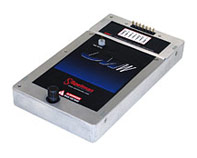 November 3, 2008 - Spellman High Voltage Electronics (Hauppauge, NY) announces the extension of its modular product line with the introduction of the UMW Series. These SMT-based, high voltage modules offer form, fit, and functional replacement for units presently available in the market and provide additional features at a lower cost.
Utilizing proprietary power conversion technology and high voltage packaging techniques, and aided by Spellman's advanced encapsulation techniques, the SMT-based UMW series provides additional features compared to competitive models, at reduced cost.
The UMW Series spans the output voltage range of 8kV to 20kV in two power offerings of 60 and 120 watts. An optional enhanced interface provides current programming capability and positive polarity, buffered, low output impedance, voltage and current monitor signals. A second voltage programming input is also provided for negative polarity units, eliminating the programming inversion on the standard interface. Current programming allows the user to vary the unit's current limit from 0 to 103% of maximum rated current. The UMW can be used with confidence in demanding applications as these robust modules are fully arc and short circuit protected.
Technical literature and information on the UMW Series is available at www.spellmanhv.com/umw
Information on other Spellman products is available by calling us at +1-631-630-3000, or by visiting our website: http://www.spellmanhv.com. Spellman High Voltage Electronics is the world's leading provider of custom designed and standard AC-DC and DC-DC high voltage power converters for: medical, industrial, analytical, and security applications; semiconductor manufacturing; scientific instrumentation; and power feed systems for undersea cables. Spellman is headquartered in the U.S. and has facilities in Japan, Mexico, Europe, and China that provide design, manufacturing and service to our customers throughout the world.