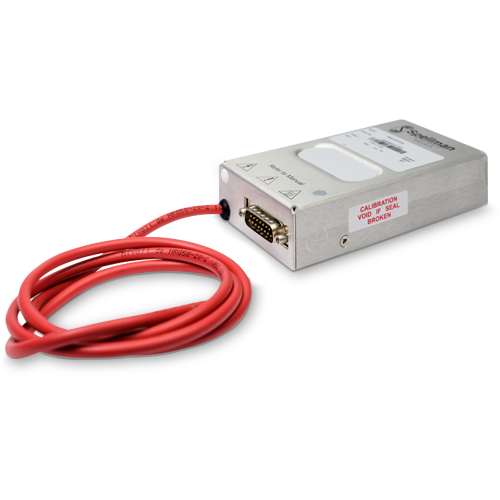 MPD Series
非常にコンパクトな高性能モジュール
デジタルまたは差動アナログ電圧プログラム
標準RS-232 / RS-485制御
10ワット出力
高安定性、低い温度係数
デジタル発振器により超低リップル、低ノイズを実現
注:すべての仕様は予告なく変更される場合があります。 最新のリビジョンについては、このデータシートの英語版を参照してください。

MPDシリーズ
スペルマンの新しいMPDシリーズは、2.5kV〜20kVの範囲の出力電圧を提供する高電圧10ワットのモジュールです。
MPDシリーズは、スペルマンのハイブリッドなリニアトポロジーとスイッチモード電力変換技術を使用して設計された高性能製品で、低ノイズで高効率を実現しました。MPDシリーズは、コンパクトな設置面積から優れたリップルおよび安定性能仕様を生み出します。また、電圧プログラミング信号用の差動アンプ入力を備えており、外部システムノイズからの耐性を改善し、オフセットの問題に対処します。
15ピンDタイプコネクタとRS-232 / RS-485シリアルインターフェイスを介して、フル機能のリモートユーザーインターフェイスが提供されます。ユニットは、インターフェイスコネクタリンクで定義されたフルアナログまたはフルデジタルコントロールにすることができます。
スペルマン独自の高電圧テクノロジーとSMT回路を組み合わせることで、OEMアプリケーションに最適な正極または負極の電源として利用できる超小型軽量のモジュールが実現しました。
代表的なアプリケーション
光電子増倍管
静電印刷
電子およびイオンビーム
シンチレーター
電子増倍管検出器
質量分析
マイクロチャネルプレート検出器
静電レンズ
原子力機器
(Ref. 128142-001 REV. C)
SPECIFICATIONS
Input Voltage:
+24 Vdc, ±2Vdc
Input Current:
≤1 amp maximum
Output Voltage:
5 models available from 2.5kV to 20kV
Output Polarity:
Positive or negative, specify at time of order
Power:
10 watts, maximum
Voltage Regulation:
Line: For a 1V line change 10ppm
Load: 0-100% load 10ppm
Current Limit:
110% of rated output current
Ripple:
See "drift, ripple and noise" table
Stability:
After one hour warm up period.
10ppm/hour
25ppm/8 hours
500ppm/1000 hours
Temperature Coefficient:
10ppm per degree C
Protection:
Arc and short circuit protected. Not designed to withstand continuous arcing
Environmental:
Temperature Range:
Operating: 0˚C to 50˚C
Storage: -35˚C to 85˚C
Humidity:
20% to 85% RH, non-condensing
Cooling:
Convection cooled
Dimensions:
2.5-10kV: 1.18˝ H X 2.75˝ W X 5.12˝ D (30mm x 70mm x 130mm)
15-20kV: 1.18˝ H X 2.75˝ W X 6.50˝ D (30mm x 70mm x 165mm)
Weight:
2.5/5/10kV:
14.82 oz. (420g)
15/20kV:
22.09 oz. (650g)
Interface Connector:
15 pin male D connector
Output Connector:
A captive 39.4˝ (1 meter) long HRG58 shielded HV cable is provided
Regulatory Approvals:
Safety: The unit is designed to meet the requirements of EN61010-1, UL61010A-1 and CAN/CSA 22.2 No 1010.1. EMC: As the unit is intended for incorporation into the users equipment, it is not tested as a standalone unit to meet the EMC directive. The user will need to follow sensible EMC precautions in using the unit.
MPD SELECTION TABLE
| Model | Output Voltage | Output Current | Ripple (Vpp) |
| --- | --- | --- | --- |
| MPD2.5*10/24 | 2.5kV | 4.00 mA | See table below |
| MPD5*10/24 | 5kV | 2mA | See table below |
| MPD10*10/24 | 10kV | 1mA | See table below |
| MPD15*10/24 | 15kV | 0.66mA | See table below |
| MPD20*10/24 | 20kV | 0.5mA | See table below |
MPD DRIFT, RIPPLE and NOISE
| Model | 3mHz-30mHz | 30mHz-3Hz | 3Hz-30Hz | 30Hz-300Hz | 300Hz-30kHz | 30kHz-3MHz |
| --- | --- | --- | --- | --- | --- | --- |
| MPD2.5 | 10mV | 10mV | 10mV | 5mV | 5mV | 5mV |
| MPD5 | 10mV | 10mV | 10mV | 10mV | 10mV | 10mV |
| MPD10 | 20mV | 20mV | 20mV | 20mV | 20mV | 20mV |
| MPD15 | 30mV | 30mV | 30mV | 30mV | 30mV | 30mV |
| MPD20 | 40mV | 40mV | 40mV | 40mV | 40mV | 40mV |
MPD EXTERNAL INTERFACE—15 PIN MALE D CONNECTOR
Pin
Signal
Parameters
1
Power Ground
Ground
2
+24Vdc Input
+24Vdc @ 1 amp maximum
3
Voltage Monitor Output
Voltage monitor 0-10Vdc for 0 to full scale output ±1%
(wrt signal ground)
4
Voltage Reference Output
10Vdc @ 1mA maximum
5
Voltage Program Input
0 to 10Vdc=0 to 100% rated output, Zin=10MΩ
6
Voltage Program Differential
Amplifier Output
0 to 10Vdc=0 to 100% rated output, Zout =10kΩ
7
Voltage Program Differential
Amplifier Input—Positive
0 to 10Vdc differential between pin 7 and pin 9 =
0 to 100% of rated output, diode clamped to ground,
Zin =38kΩ
8
Current Monitor Output
Voltage monitor 0-10Vdc for 0 to full scale output ±1%
(wrt signal ground)
9
Voltage Program Differential
Amplifier Input—Negative
0 to 10Vdc differential between pin 7 and pin 9 =
0 to 100% of rated output, diode clamped to ground,
Zin =38kΩ
10
Voltage Program
Digital Output
0 to 10Vdc = 0 to 100% rated output, Zout =10kΩ
11
Analog Signal Ground
Analog signal ground for control and monitoring
12
Enable Input
Low = Enable, TTL, CMOS, open collector compliant
13
Digital Mode
RS-232 or RS-485 configuration
Low = RS-485, Open circuit = RS-232
14
RS-232 TxD/RS-485 (-)
Transmit data (output) wrt pin 1 or RS-485 inverting
15
RS-232 RxD/RS-485 (+)
Receive data (input) wrt pin 1 or RS-485 non inverting
Digital Control – Connect pin 5 to pin 10
Analog Control – Connect pin 5 to pin 6