VS100
100kV Electron Beam High Voltage Power Supply
Low/High 10μA/100μA Output Current Selection
Less than 75mV of Ripple
Excellent Regulation and Stability Performance
Oil Free/Solid Encapsulated Design
*Note: All specifications are subject to change without notice. Please consult the English PDF version of this datasheet for the most up-to-date revision.

Electron Beam High Voltage Power Supply
The Bertan VS100 high voltage power supply was specifi­cally designed for precision electron beam applications like semiconductor nano-lithography, micro-optics and development mask work. Its ultra low ripple and excellent stability specifications make it ideal for use in these demanding applications. A switch selectable low and high output current range is featured.
The solid encapsulated high voltage section eliminates any user maintenance issues, while isolating the compo­nents from environmental variables. The unit is fully overload, arc and short circuit protected. Remote control programming and monitoring capability is provided. A second high voltage monitor, separate from the control electronics is provided. This allows accurate passive measurement of the high voltage output.
Typical applications:
Micro-Optics
Semiconductor lithography
Development mask work

(Ref. 128045-001 REV. H)
Input Voltage:
220Vac, ±10%, single phase 50/60 Hertz
Output Voltage:
0 to 100kV, negative polarity. Externally switch selectable to 105kV, ±500 volts
Output Current:
0-10µA, low range
0-100µA, high range
Switch selectable
Line Regulation:
±0.001% of rated voltage over specified input voltage range
Load Regulation:
≤20V for a current change of 25μA to 60μA and 60μA to 25μA
Ripple:
≤75mV peak to peak
Partial High Voltage Discharge:
less than 200mV
Stability:
0.001% per 8 hours after a 6 hour warm up, for a temperature of 20°C ±0.2°C
Temperature Coefficient:
50ppm per degree C over a 10°C to 40°C range
Environmental:
Operating Temperature: 0 to 40 degrees C
Storage Temperature: -40 to 85 degrees C
Humidity: 10 to 90% RH, non condensing
Cooling:
Forced Air-control chassis;
Convection Cooled- high voltage chassis
Front Panel:
Power ON/OFF switch
HV ON/OFF switch
HV ON/OFF indicator
Analog output voltage meter
Dimensions:
Control Chassis: 5.25. H X 19. W X 15.3. D (13.3cm X 48.3cm X 38.4cm)
HV Chassis: 10.25. H X 19. W X 27. D (26.7cm X 48.3cm X 55.9 cm)
Weight:
Control Chassis: 20 pounds (9kg)
HV Chassis: 116 pounds (50kg)
Interface Connector:
19 pin Burndy GOB1619SNE (mating connector provided)
AC Input Connector:
3 pin IEC320 input socket
Output HV Connector:
Claymount 2050-073
Output HV Cable:
Detachable at rear panel, cable not provided.
REMOTE INTERFACE CONNECTOR
| Pin | Signal | Signal Parameters |
| --- | --- | --- |
| A | -5V Reference | -5.0 volts @ 10mA output |
| B | Voltage Programming | 0 to -5v = 0 to 100% rated output, Zin = 100KΩ |
| C | Spare | N/C |
| D | Spare | N/C |
| E | Monitor Common | Ground |
| F | HV Stat | TTL High = HV OFF, TTL Low = HV ON |
| G | +5V | 5 volts @ 250mA output |
| H | Interlock | Ground or TTL low to enable interlock |
| J | Program Common | Ground |
| K | Spare | N/C |
| L | Spare | N/C |
| M | Spare | N/C |
| N | Spare | N/C |
| P | Voltage Monitor | 0 to -5V = 0 to 100% rated output, Zout =10KΩ |
| R | Current Monitor | 0 to -5V = 0 to 100% rated output, Zout =10KΩ |
| S | Spare | N/C |
| T | Spare | N/C |
| U | Spare | N/C |
| V | Spare | N/C |
DIMENSIONS: in.[mm]
FRONT VIEW

TOP VIEW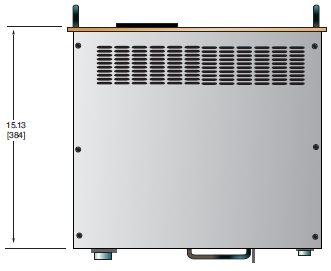 BACK VIEW

HV CHASSIS
FRONT VIEW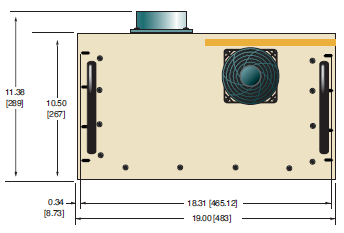 TOP VIEW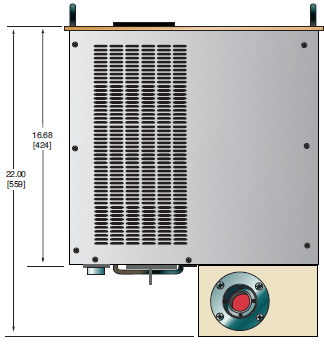 BACK VIEW