General X-Ray
Integrated Medical Imaging Systems:
From basic DR to complex surgical systems, our flexible radiographic and fluoroscopic generator families have all of the imaging system compatibility, reliability, performance and serviceability you need to differentiate your solutions. Using trusted industry partners, Spellman has developed interfaces for most commercially available X-Ray tubes, collimators and digital imaging workstations, with plug and play simplicity.
From our high-performance Z Series to our powerful HFe series, Spellman has an imaging solution to meet your unique imaging requirements. Spellman's fluoroscopic and radiographic series of products boast feature-rich, modular designs that place emphasis on serviceability and support and range from value to premium. Our R&F HFe Series are available from 40kW to 80 kW, in a variety of cabinet designs to best suit your X-Ray room configuration. Our compact and reliable Z Series radiographic generators, spanning from 32 kW to 80 kW, feature the medical industry's highest output frequency at 450kHz and world class performance specifications,
Typical applications include remote R&F, classical R&F, general radiography, digital radiography, tomography, urology, vascular/interventional imaging, image guided radiation therapy, radiation oncology and veterinary.
The Generator is the Heart
The generator is at the heart of the X-Ray system. It communicates and synchronizes with almost every piece of hardware and software in the room. Powered by our HFe or Z-Series generator family, Spellman now offers single console integrated solutions.
Benefits of these new integrated medical imaging solutions include:
Configured and staged systems minimize set up and installation time.
Systems are shipped configured and staged to minimize set up and installation time.
Seamless transition into your clinical environment.
Enhanced workflow with full APR driven generator controls.
Automated radiographic technique set-up for maximized throughput and productivity.
Reduced chance of error or false triggering.
Intuitive interface is ideal for less experienced technicians.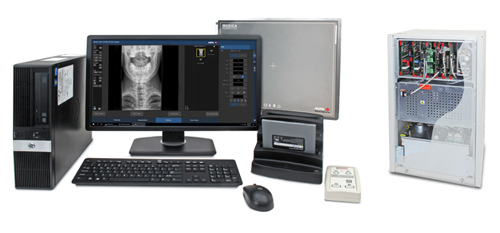 AGFA-Spellman Integrated Imaging System:
This system allows for optimal workflow and improved user experience with automated radiographic technique setup between the Musica™ workstation and the HFe generator. Full leg and full spine imaging options provide simple long bone and scoliosis imaging. Dose reporting, as well as comprehensive modality and enterprise level tools, is also available.
Single, dual and multiple detector configurations are in stock and ready to ship.
For more information on the AGFA-Spellman Integrated system, click here.
For Sales in the Americas and Canada contact hfenxintegration@spellmanhv.com.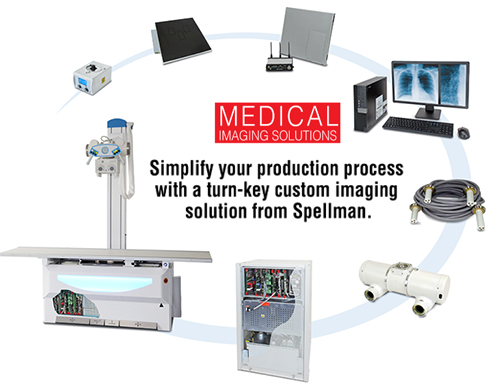 VAREX-Spellman Integrated DR Imaging System:
This integrated system optimizes the full potential of the Varex DR Imaging System. It not only saves time for the operator, but also increases throughput.
These integrated configurations sold and supported throughout the US by Spellman HV.
Contact sales@spellmanhv.com for more information.

Spellman's Custom Imaging Systems (available in Europe):
Simplify your production process with a turn-key subsystem solution from Spellman.
Scalable solutions ranging from individual components, such as high frequency generators, up to complete radiography or digital radiography systems.
Spellman has over 35 years of Computed Tomography (CT) and other 2D and 3D imaging applications experience. Let us help you with your diagnostic, novel treatment or surgical applications.
All solutions custom engineered to deliver optimum performance and user experience.
Spellman custom imaging solutions are carefully sourced from our trusted partners giving exceptional value and streamlined logistics to our customers.
Spellman warrants and supports its custom imaging solutions with our world-class product support team which is available 24/7.
For further information on European sales, contact: EuroSales@spellmanhv.com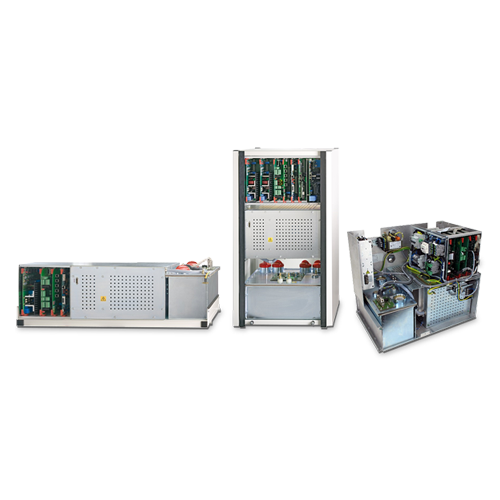 40 – 80 kW Radiographic and Fluoroscopic modes of operation
Integrated to the most sophisticated X-Ray tubes and digital workstations
Ethernet connections provide HFe the fastest and most stable X-Ray generator communication in the market
Easy to calibrate service and upgrade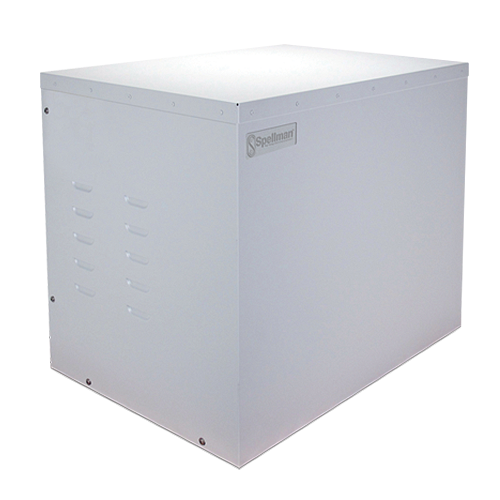 Up to 150kV
Outputs from 32kW – 80kW
450kHz output frequency
Reduce ripple for superior image quality
Optional DR interface and compatibility with all major DR workstations
Available touch screen control console