Spellman Releases Two New Monoblock® X-Ray Sources for Security Industry
June 28, 2022
Hauppauge New York – Spellman High Voltage Electronics Corporation (Hauppauge, NY) announces the release of two new high voltage X-Ray sources for security applications focused on break bulk cargo scanning, skids, pallets and ULD container inspection.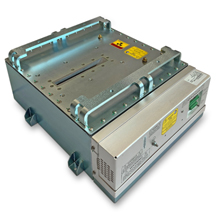 Spellman's new XRB180PN200 and XRB200PN400/2 are both integrated X-Ray sources operating up to 180kV / 200W, and 200kV / 400W respectively, providing OEM users a compact plug-and-play Monoblock® for critical inspection and screening applications. The XRB180PN200 unit incorporates a 25° angle stationary anode X-Ray tube with a fan beam of 80°x 4°, while the XRB200PN400/2 unit incorporates a 15° angle stationary anode X-Ray tube with a symmetrical fan beam of 85° X 4°.
Both have proprietary emission control circuitry providing excellent regulation of X-Ray tube current, for industry leading dose stability and image quality. These compact models come with standard analog and RS-232 digital control. Spellman can provide customized versions of these platforms for specific OEM system requirements.
Typical applications for both the XRB180PN200 and the XRB200PN400/2 include Aviation Security Screening: Checked Baggage/EDS Vehicle Inspection, Cargo Inspection and General NDT. The XRB180PN200 is also applicable for Food Inspection requirements.
About Spellman High Voltage Electronics Corporation
Spellman High Voltage Electronics is the world's leading provider of custom designed and standard AC-DC and DC-DC high voltage power converters and Monoblock® X-Ray sources for medical, industrial, semiconductor, security, analytical, laboratory, and under-sea cable power-feed applications. With design, manufacturing and service facilities in the US, UK, Mexico, China and Japan, and direct sales offices throughout Europe, Asia and North America, Spellman is committed to supporting advanced system providers and their customers throughout the world.
For more information on our products, visit our website: www.spellmanhv.com