Spellman's Exhibit at AHRA 2021 Showcases New Digital Imaging Partnerships
July 15, 2021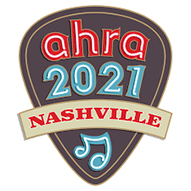 Hauppauge New York – Spellman High Voltage Electronics Corporation, the world's leading manufacturer of custom high voltage power conversion products, will be exhibiting at the upcoming AHRA 2021, the Association for Medical Imaging Management, August 1-4, in Nashville, TN.
Spellman's technical and sales staff will be available at Booth #432 to discuss new opportunities to partner with us for enhanced quality and sophistication in Digital Medical Imaging systems.
Digital Imaging Partnerships:
Spellman's current partnership with AGFA has been successfully implemented in several high-profile medical institutions rendering enhanced diagnostic imaging quality and increased patient throughput. Our single console integration between Spellman's HFe X-Ray generators and our partners - AGFA MUSICA™ Workstations allows for optimal workflow and improved operator experience with automated radiographic techniques set up between the MUSICA™ workstation and our HFe generator. This saves time, increases productivity and reduces the chance of error or false triggering of the X-Ray detector, offering flexibility, quality and diagnostic precision to our partners. Come meet with us and consider partnering with Spellman at AHRA this year.
Background: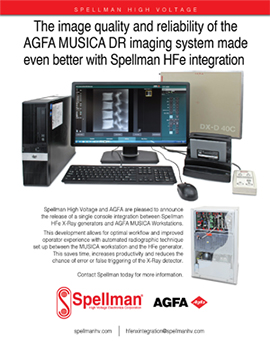 AGFA:
For many years, AGFA and Spellman worked together on the acclaimed and commercially successful AGFA DR400 and DR600 Radiography systems and have recently made that experience available to customers of Musica™ 2 and 3 digital imaging workstations. These feature all of the benefits and image processing you've come to love on the Musica™ workstation, plus direct generator control eliminating the dedicated radiography console and replacing it with fully integrated controls on the Musica™ workstation. This not only makes the user experience easier and more streamlined, but also eliminates opportunities for errors while increasing overall productivity by improving workflow.
The AHRA:
The AHRA, Association for Medical Imaging Management is the professional organization representing management at all levels of hospital imaging departments, freestanding imaging centers, and group practices. AHRA sets the standard for imaging leaders in providing quality care, innovative use of technologies, and best practices in medical imaging management. Information on the annual AHRA Conference can be found at www.ahra.org.
Spellman High Voltage:
Spellman High Voltage Electronics is the world's leading provider of high performance, custom and standard DC high voltage power converters and Monoblock® X-Ray sources for medical, industrial, semiconductor, security, analytical, laboratory and under-sea cable power-feed applications. As a global supplier with strategically located design and manufacturing facilities in North America, Europe and Asia, Spellman is committed to providing best-in-class support to OEM customers and end-users throughout the world. Information on Spellman and our wide range of high voltage products is available by calling +1-631-630-3000, or by visiting our website: www.spellmanhv.com.