Spellman Holds Ground-Breaking Ceremony for New China Design and Manufacturing Center
Suzhou Facility Expansion Marks Important Growth Initiative for Spellman's Asia Operations, Nearly Doubling the Company's Footprint
March 18, 2021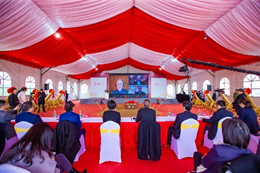 Suzhou Industrial Park, PRC – Spellman High Voltage Electronics Corporation, the world's largest independent manufacturer of custom high voltage power conversion products and X-Ray sources, announces the breaking ground of its new 14,000 square meter (nearly 150,700 square feet) design and manufacturing center in Suzhou Industrial Park, Jiangsu, PRC, nearly doubling the size of the company's current rented facilities in Suzhou (at 7,250 sq meters or 78,000 sq ft).
By increasing Spellman's design and manufacturing capabilities in China, this investment reinforces the company's long-standing commitment to the Asian marketplace and supports the steady growth that began with Spellman's first facility in 2004. According to David Burgess, Chief Marketing Officer, "With this building we put in place the important infrastructure to help us double again, supporting China OEMs as they continue to develop leading technologies and products across multiple industries. It provides the foundation to which we can develop and support the advanced High Voltage technology required to propel high technology industries in China for today and into the future".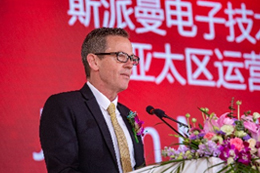 This new facility will enable the company to nearly double in size and capabilities and is part of a long-term global growth strategy. When completed in the spring of 2022, the building will provide additional working space for Engineering, Operations, Service and Sales. According to Jason Michael, VP of Operations in Asia, "This establishes a more permanent home for Spellman China and allows us to invest in our infrastructure for advanced operational technologies. It also utilizes LEED certified building materials to reduce our carbon footprint, provides improved facilities for all employees and continues our commitment to long-term sustainable growth in the China market".
To commemorate this event, a ground-breaking ceremony was held on March 18, 2021, and was attended virtually by Spellman executives from around the world, as well as Asia Pacific staff, and the Deputy Chairman of SIPAC, Ms. Vivian Liu.
"This facility will provide the necessary space to expand our product development and operations capacity to meet the needs of our valued customers in China and the Asia Pacific region," said Dr. Loren Skeist, President and CEO of Spellman High Voltage Electronics Corporation. "In addition, this building is LEED Silver certified, which means it utilizes the most efficient HVAC, insulating materials, solar panels and efficient LED lighting in order to reduce our carbon footprint, something that's very important to us," added Dr. Skeist.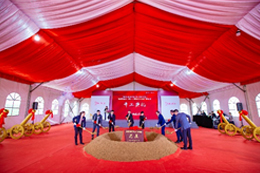 "This facility represents our trust and belief in the China market and demonstrates our long-term commitment to advancing the medical, analytical, industrial and security segments throughout China and APAC", added Mr. Michael. "This new facility will also enable us to further expand our development of new technologies, increase the localized support for our Chinese customers, improve our time to market, provide the additional space necessary to support our rapidly growing business and become the center of APAC business".
Dr. Skeist added, "We hope the facility we are now breaking ground for will be one SIP can be proud of, that our staff will be proud to work in, and that our customers will visit often!" The expanded facility will continue to serve as Spellman headquarters in the Asia Pacific region. The Company's presence in the region also includes offices in Japan, Korea and India.
Information on Spellman and our many other products is available by visiting our website: www.spellmanhv.com.
Spellman High Voltage Electronics is the world's leading independent manufacturer of high voltage power supplies, DC-DC converters and power systems for medical and industrial applications, semiconductor manufacturing, scientific instrumentation, telecommunications, X-Ray and automatic test equipment. We specialize in providing custom designs to suit unique requirements. Spellman is headquartered in the U.S. and has facilities in the Mexico, Europe, Japan and China that provide design, manufacturing and service to our customers throughout the world.