Spellman Announces the Release of the MI1.5PN24 for Use with Pulsers in Mass Spectrometry and Other Pulsed Load Requirements
January 06, 2021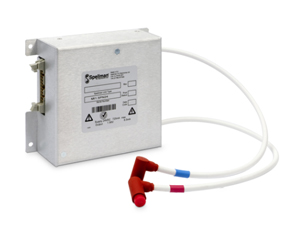 Spellman High Voltage Electronics Corp, the world's leading high voltage power supply, X-Ray generator and Monoblock® X-Ray source manufacturer, announces the introduction of their new MI1.5PN24, a well-regulated, high performance DC-DC converter featuring a floating 1.5kV @ 6.5mA output with an operational range of 300V-1500V.
The output of this unit is isolated, allowing connection to loads of +Ve, -Ve or switchable polarity and for pulse currents to be contained within prescribed paths, reducing noise and interference signatures. The MI1.5PN24 low output ripple specification makes it ideal for use with pulsers in Mass Spectrometry applications.

This module is packaged in a shielded metal enclosure and the high voltage output is provided via two captive cables. The MI1.5PN24 has a large, high quality capacitance and rugged output network, this allows high energy pulsed loads to be powered continuously without significant voltage drop or damage to the unit circuitry.

The unit has remote 0-10Vdc = 0-100% rated voltage programming and voltage monitor. A TTL compliant enable signal provides simple control of the high voltage output. Typical applications are for Mass Spectrometry pulsers and other pulsed load requirements.
Detailed technical information and datasheet on the MI1.5PN24 Series can be found here.

Information on Spellman and our wide range of high voltage products is available by contacting sales@spellmanhv.com or by visiting Spellman's website: www.spellmanhv.com.
Spellman High Voltage Electronics is the world's leading provider of custom designed and standard AC-DC and DC-DC high voltage power converters and Monoblock® X-Ray sources for medical, industrial, semiconductor, security, analytical, laboratory, and under-sea cable power-feed applications. With design, manufacturing and service facilities in the US, UK, Mexico, China and Japan, and direct sales offices throughout Europe, Asia and North America, Spellman is committed to supporting advanced system providers and their customers throughout the world.