Spellman's New XMPF and XMPG Provide Both Standard and Customizable Options for Low Power X-Ray Modules
July 31, 2018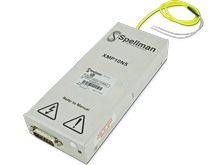 Hauppauge, NY… Spellman High Voltage Electronics Corp, the world's leading high voltage power supply, X-Ray generator and Monoblock® X-Ray source manufacturer, announces the introduction of their new XMPF and XMPG low power x-ray power supply modules, designed for applications such as NDT surface tension testing, sulfur metering, thickness gauging and irradiation, among others.
Developed as an extension of Spellman's highly reliable MPS Series, these low power x-ray modules include filament outputs that are either ground referenced (XMPG) or floating (XMPF). With their compact form factor, these supplies are ideal for incorporation into small bench top/portable X-Ray Spectrometers and similar instruments.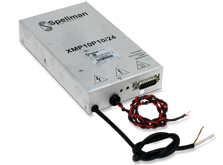 The XMPG series provides output voltage from 4kV to 10kV and integrates a ground referenced filament supply. It features low ripple, local and remote programming, and can be customized for OEM applications. The XMPF series offers output voltage from 20kV to 10kV and includes an integrated floating filament supply. It also features low ripple, local and remote programming and is customizable for OEM applications.
Detailed technical information on these or any of Spellman's wide range of high voltage products is available by calling +1-631-630-3000 or by visiting Spellman's website: www.spellmanhv.com
Spellman High Voltage Electronics is the world's leading provider of custom designed and standard AC-DC and DC-DC high voltage power converters and Monoblock® X-Ray sources for medical, industrial, semiconductor, security, analytical, laboratory, and under-sea cable power-feed applications. With design, manufacturing and service facilities in the US, UK, Mexico, China and Japan, and direct sales offices throughout Europe, Asia and North America, Spellman is committed to supporting advanced system providers and their customers throughout the world.