Registration Deadline for the Spellman-sponsored Clean Tech 2018 Competition is March 30th
Spread the Word to Local School Districts and STEM Programs for Pre-College Aged Students
January 09, 2018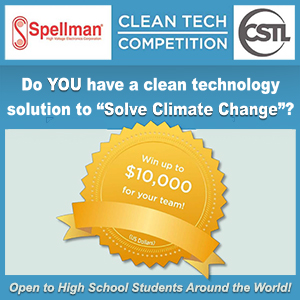 The Spellman-sponsored Clean Tech Competition, run by the Center for Science Teaching and Learning (CSTL), is now open for registration of projects. Registration deadline is March 30th, 2018. This year's theme is "Solving Climate Change". The competition challenges high school/pre-college age students to identify a specific problem of their choosing. Teams are made up of 2-4 students each, and mentored by a Team Leader. Each team will identify a specific problem, explain and analyze in detail, and design a solution that can mitigate the negative impacts set forth by the challenge.
At this point, 46 students from 23 teams representing nine countries have registered: China, Ireland, Spain, Canada, Moldova, Singapore, France, Indonesia and the United States. In past years, we have had over 330 teams from 26 countries vying for the top three awards–$10,000 for first place, $7,000 for second and $5,000 for third. In addition to the $10,000 top prize, the winning team will have the opportunity to expand on its relationship with a professional mentor who advises and assists the team in furthering its work and education. We expect to have as many, if not more teams this year.
Please see the attached documents for more information on Clean Tech 2018 and how to register your team. Registration deadline again is March 30th. Paper submission is due April 13th and Semi-Finalist announcements will be made May 7th with Finalists announced May 14th. The final event is July 13th at Stony Brook University on Long Island, New York, USA. We'd like to get the word out to schools in areas surrounding Spellman facilities and beyond, so feel free to send the information to your local school district or Science-focused schools in your area.
For more information on Clean Tech 2018: https://www.cstl.org/cleantech/