Spellman High Voltage Electronics to Exhibit at the International Technical Exhibition of Medical Imaging 2017 (ITEM)
March 13, 2017
(Hauppauge, NY)- will exhibit at the International Technical Exhibition of Medical Imaging 2017 (ITEM) from April 14-16 at Pacifico Yokohama Exhibition Hall in Yokohama city, Japan. Spellman will be located at Booth #210.
Spellman will present their extensive array of high voltage solutions for the diagnostic medical imaging industry including: the K&S brand HFe R/F series of generators and the NEW Z SERIES generators for the DR market; CT gantry mounted generators; the PDM series Dental Monoblock® for both panoramic and CT applications; the VMX/PMX series mammography generator; Monoblock® X-Ray Sources for Bone Densitometry; and DGM series power supplies for image intensifiers.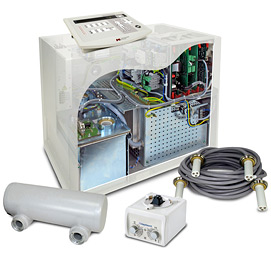 Spellman, the world's leader in high voltage innovation, introduces the all new Z Series of high frequency, high performance diagnostic imaging generators. These highly compact and cost effective radiographic generators feature the medical industry's highest output frequency at 450kHz and world-class performance specifications. And best of all, Spellman's engineering team will support your OEM integration from beginning to end, for seamless and smooth market launch. Compatible with the most advanced digital interfaces and X-Ray room system mechanics, the Z Series is the most intelligent choice for the medical OEM seeking the latest technology and world-class support. Spellman offers a variety of turn-key solutions and single source options for the complete X-Ray image chain, supporting both Digital Radiographic and Digital Fluoroscopic applications. Representatives will be on-hand to answer questions, discuss custom requirements, and demonstrate select equipment.

ITEM is an academic exhibition organized as a part of Japan Radiology Congress 2017 by Japan Medical Imaging and Radiological Systems Industries Association (JIRA). This annual exhibition covers a wide range of medical diagnostic imaging devices with related appliances, and is held concurrently with the 76th Annual Meeting of the Japan Radiological Society, the 73rd Annual Scientific Congress of the Japanese Society of Radiological Technology, and the 113th Scientific Meeting of the Japan Society of Medical Physics.
Spellman High Voltage Electronics is the world's leading provider of high performance, custom and standard DC high voltage power converters and Monoblock® X-Ray sources for medical, industrial, semiconductor, security, analytical, laboratory and under-sea cable power-feed applications. As a global supplier with strategically located design and manufacturing facilities in North America, Europe and Asia, Spellman is committed to providing best-in-class support to OEM customers and end-users throughout the world.
Additional information on Spellman and their wide range of high voltage products is available at: www.spellmanhv.com.