Spellman High Voltage Electronics Receives the Prestigious 2017 "Strategic Partner" Award from Nuctech Company Limited
Award Given for X-Ray Based Security Systems
July 10, 2017
Suzhou Industrial Park, PRC – Spellman High Voltage Electronics Corporation, the world's largest independent manufacturer of custom high voltage power conversion products and X-ray sources, announces that it has received the prestigious 2017 "Strategic Partner" Award for X-ray based Security Systems for Cargo Inspection from Nuctech Company Limited.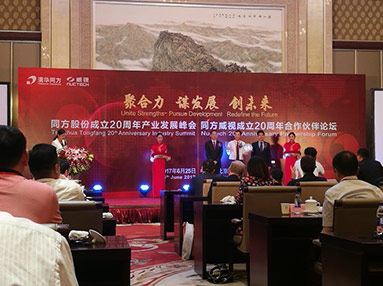 The award, presented at Nuctech's 20th Anniversary celebration, recognizes the Company's top three suppliers for the outstanding technology, quality, support and value they deliver. Spellman's Sales Director, Greater China and Korea, Owen Liu commented: "It is truly an honor to receive this Strategic Partner Award from Nuctech, one of our greatest customers and partners. Our philosophy of partnering with our customers to help develop the best technology on the market has been validated with this award. And with our newly expanded facility in Suzhou now open, we are well positioned to maintain this strategic partnership for years to come".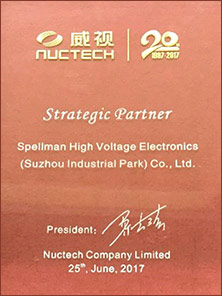 Nuctech is one of the World's largest security and inspection solution providers, and number one in China. They provide advanced technology, superb products and integrated solutions to customers in more than 140 countries. Covering Civil Aviation, Customs, Railway, Highway, Urban Railway, Logistics, Judiciary, Big Events and other security areas, Nuctech helps customers to keep their homeland secure and people safe.
Spellman High Voltage Electronics is the world's leading independent manufacturer of high voltage power supplies, DC-DC converters and power systems for medical and industrial applications, semiconductor manufacturing, scientific instrumentation, telecommunications, X-ray and automatic test equipment. We specialize in providing custom designs to suit unique requirements. Spellman is headquartered in the U.S. and has facilities in the Mexico, Europe, Japan and China that provide design, manufacturing and service to our customers throughout the world.
Information on Spellman and our many products is available by visiting our website: www.spellmanhv.com