Spellman High Voltage Introduces New Power Distribution Unit
March 09, 2016
Spellman High Voltage Electronics Corporation's PDU capabilities provide custom power distribution units which deliver AC and DC power for high performance CT scanning, X-Ray imaging and critical industrial applications. Spellman's power conversion expertise can provide custom DC supplies up to 100 kilowatts in output power.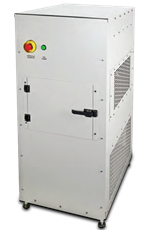 Spellman's PDU's can proactively eliminate the trouble and expense of downtime due to power quality issues. The PDU provides the clean AC and DC power that today's applications demand, in one integrated cost savings assembly. Sophisticated comprehensive digital remote powering monitoring capability can monitor, diagnose and fix power quality issues.
For additional technical information the custom PDU series contact Spellman at spellmanhv.com/PDU
Information on Spellman and their wide range of high voltage products is available by calling +1-631-630-3000, or by visiting their website: spellmanhv.com
Spellman High Voltage Electronics is the world's leading provider of custom designed and standard AC-DC and DC-DC high voltage power converters and Monoblock® X-Ray sources for medical, industrial, semiconductor, security, analytical, laboratory, and under-sea cable power-feed applications. With design, manufacturing and service facilities in the US, UK, Mexico, China and Japan, and direct sales offices throughout Europe, Asia and North America, Spellman is committed to supporting advanced system providers and their customers throughout the world.