Spellman to Exhibit at CMEF in Shanghai, May 15-18, 2015 - Largest Health Expo in Asia
The High Voltage Leader Exhibits New Generators and X-Sources for the Medical Imaging industry
April 20, 2015
Suzhou Industrial Park, PRC – April 20 2015 – Spellman High Voltage Electronics Corporation, the world's largest independent manufacturer of custom high voltage power conversion products, announces that it will exhibit at the 2015 CMEF Annual Medical Equipment Fair, from May 15 through May 18, 2015, at the Shanghai National Exhibition and Convention Center. Spellman's booth is located in the Imaging Hall 7.2, booth C12.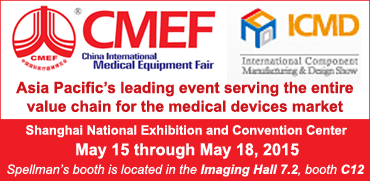 Spellman will present their extensive array of high voltage solutions for the diagnostic medical imaging industry, including the HFe R/F generator series, the all New Z-Series Radiographic generator series, CT gantry-mounted generators, PDM Series Dental Pan/Ceph/CT Monoblock® X-Ray Source, VMX Series mammography generator, Monoblock® X-Ray Sources for Bone Densitometry, and DGM power supplies for image intensifiers. Spellman Representatives will be on-hand to answer questions, discuss custom requirements and demonstrate select equipment.
The CMEF Fair is a part of The Health Industry Summit, EXPO and Congress, the new umbrella global Pharmaceutical and Medical industry event in Asia, the world's fastest growing health market. It brings together CMEF, PharmChina and API China in one place at the same time, the only event providing complete coverage of the health industry. Over 200,000 visitors and 6000 exhibitors are expected to attend this year's event in Shanghai. http://www.thishealthsummit.com
Spellman High Voltage Electronics is the world's leading provider of high performance, custom and standard DC high voltage power converters and Monoblock® X-Ray sources for medical, industrial, semiconductor, security, analytical, laboratory and under-sea cable power-feed applications. As a global supplier with strategically located design and manufacturing facilities in North America, Europe and Asia, Spellman is committed to providing best-in-class support to OEM customers and end-users throughout the world.
Additional information on Spellman and their wide range of high voltage products is available at: www.spellmanhv.com