Spellman High Voltage Adds The XRBC Monoblock® To Its Extensive Array of X-Ray Source Offerings
March 27, 2015
Spellman High Voltage Electronics Corporation (Hauppauge, NY) announces the expansion of its Monoblock® series of X-Ray sources with the introduction of the XRBC. Spellman's Monoblock® X-Ray sources eliminates problematic external high voltage cabling by integrating the high voltage power supply, the filament power supply and the X-Ray tube into a single, easy to package.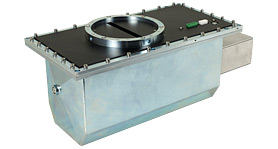 The XRBC Series is a compact, cost effective 160kV @ 170/480 watt X-Ray source that features a power factor corrected, universal voltage input and an analog interface along with standard Ethernet and RS-232 interfaces. The 170 watt version is convection cooled while the 480 watt version utilizes a forced air cooled heat exchanger. These fully sealed units can be mounted in any physical orientation. XRBC Monoblocks® can be provided with fan shaped X-Ray beam geometry or a cone shaped X-Ray beam pattern.
Typical usages include component scanning and security applications. Spellman's Monoblocks® can be designed in a wide variety of geometries with beam shape, focal spot size and other critical parameters customized for particular applications.
Click here
for technical literature and information on the XRBC Monoblock® X-Ray source.
Information on other Spellman products is available by calling us at +1-631-630-3000, or by visiting our website:
www.spellmanhv.com.

Spellman High Voltage Electronics is the worlds leading independent manufacturer of high voltage power supplies, DC-DC converters and power systems for medical and industrial applications, semiconductor manufacturing, scientific instrumentation, telecommunications, X-ray and automatic test equipment. We specialize in providing custom designs to suit unique requirements. Spellman is headquartered in the U.S. and has facilities in the Americas, Europe and Asia that provide design, manufacturing and service to our customers throughout the world.