Spellman High Voltage Announces the Introduction of Its NEW uX ("micro X") An Ultra-Compact Version of The Industry Leading MNX
Groundbreaking new generator is 30% smaller by volume than similar purpose generators in the industry
June 03, 2014
Hauppauge New York – Spellman High Voltage Electronics Corp announced today the introduction of its groundbreaking new X-Ray module, the uX, the most compact generator of its class on the market today.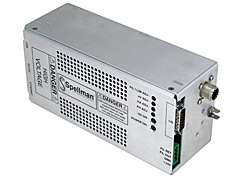 Spellman has taken its innovative techniques for surface mount design and encapsulation to the next level, producing an ultra-compact redesign of its industry standard MNX module. The 65kV uX measures 4" x 2.87" x 9" (101.6 x 72.95 x 228.6mm) - 30% smaller by volume than MNX, and weight has decreased from 6.5 lbs (3.0kg) to only 4.5 lbs (2.1kg).
Designed to power cathode grounded X-Ray tubes from all major tube providers, the uX provides between 50 and 65kV and up to 75W. The uX has an adjustable isolated filament supply and is over-voltage and short-circuit protected, with local and remote emission control.
The high stability (.05% over 8 hours), very low ripple, and tightly regulated µX also has fully integrated digital control for beam voltage, emission current, and filament current limit via Ethernet, RS232, or USB. Spellman's proprietary GUI allows standard operation of the module, and simplifies OEM integration by allowing customized operation of functional parameters. Suitable for many analytical and industrial inspection applications, the µX also features a Grid Bias option for commercially available gridded X-Ray tubes, including the popular Oxford Apogee tube.
To discuss the many benefits of the new uX and integration into your X-Ray system, contact a Spellman Sales Engineer or download the datasheet at www.spellmanhv.com/uX
Spellman High Voltage Electronics is the world's leading provider of high performance, custom and standard DC high voltage power converters and Monoblock® X-Ray sources for medical, industrial, semiconductor, security, analytical, laboratory and under-sea cable power-feed applications. As a global supplier with strategically located design and manufacturing facilities in North America, Europe and Asia, Spellman is committed to providing best-in-class support to OEM customers and end-users throughout the world.

Additional information on Spellman and their wide range of high voltage products is available at: www.spellmanhv.com