Spellman Announces New Electron Beam Evaporation Power Supplies
Thin film deposition power supplies feature user adjustable arc management controls
March 28, 2014
Hauppauge, New York – Spellman High Voltage Electronics Corporation, the world's leading manufacturer of standard and custom high voltage power conversion products, is pleased to announce the release of its new EVA Series rack-mounted, high voltage power supplies for e-beam coating applications. Available in 3, 6 and 12kW versions, the EVA utilizes a rugged and field-proven IGBT Switch Mode design to limit stored energy and provide excellent regulation and ripple specifications.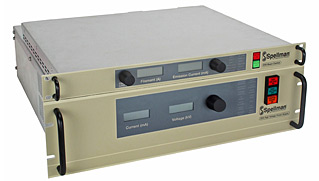 Designed specifically for demanding e-beam applications, the EVA Series is tolerant to both transient and continuous arcing. With its low stored energy, low capacitance output, the EVA minimizes power delivered during arcing events and permits rapid arc recovery times, thus limiting process interruptions and improving product yields. In addition, arc intervention parameters can be optimized via the unit's GUI for a wide range of arc management performance. Adjustable values include arc quench, re-ramp, count, and arc rate limiters.
The EVA family of products also includes an optional, separate 1U rack mounted filament power controller and external filament transformer, which provides 12Vrms at 0-35A (30kHz) output. A higher power 50A supply is also available. Selectable preheat and filament limit settings, as well as emission and filament current monitors allow the user access to control critical filament parameters.
EVA datasheets can be downloaded here:
http://www.spellmanhv.com/eva
To learn more about EVA high voltage power supplies and their many benefits and features contact your local Spellman Sales Office or our applications support staff at 631-630-3000.
Spellman High Voltage Electronics is the world's leading provider of high performance, custom and standard DC high voltage power converters and Monoblock® X-Ray sources for medical, industrial, semiconductor, security, analytical, laboratory and under-sea cable power-feed applications. As a global supplier with strategically located design and manufacturing facilities in North America, Europe and Asia, Spellman is committed to providing best-in-class support to OEM customers and end-users throughout the world.
Additional information on Spellman and their wide range of high voltage products is available at:
www.spellmanhv.com