Spellman de Mexico relocating to first industrial facility designed to LEED Silver Standards in the State of Tamaulipas
April 14, 2011
April 14, 2010 – Hauppauge New York – Spellman High Voltage Electronics Corporation is collaborating with the FINSA Corporation (owner and builder) to create the first industrial building in the State of Tamaulipas designed to meet the LEED Silver Standard. Leadership in Energy & Environmental Design (LEED) is an internationally recognized green building certification system that verifies that buildings or communities have been built using technologies that significantly reduce CO2 emissions and energy, water and other resource usage and that improve indoor environmental quality.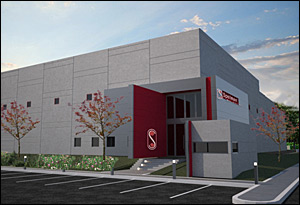 Currently, Spellman de Mexico's ISO 9001:2008 and ISO 14001:2004 Certified operations employ over 750 skilled workers and encompass two facilities; plant 1 (88,000 sq. ft. dedicated to top assembly and test) and plant 2 (62,500 sq. ft. dedicated to sub-assemblies).
The new plant 1 in Matamoros, which began construction in January 2011, is expanding to 161,640 sq. ft. over several phases. Spellman will begin occupying the space in July 2011, completing transfer of operations from the current plant 1 by August 2012. Plant two will continue to manufacture sub-assemblies.
Loren Skeist, President of Spellman, commented, "Constructing a new facility to the LEED Silver Standard is part of an on-going strategy to create healthy and environmentally responsible operations for our employees and local community of Matamoros."
Information on other Spellman products is available by calling us at +1-631-630-3000, or by visiting our website: www.spellmanhv.com.
Spellman High Voltage Electronics is the world's leading provider of custom designed and standard AC-DC and DC-DC high voltage power converters for: medical, industrial, analytical, and security applications; semiconductor manufacturing; scientific instrumentation; and power feed systems for undersea cables. Spellman is headquartered in the U.S. and has facilities in Japan, Mexico, the UK, and China that provide design, manufacturing and service to our customers throughout the world.