Spellman Introduces V6 Series of Precision High Voltage Modules
December 13, 2011
Dec 13, 2011 – Hauppauge New York – Spellman High Voltage Electronics Corporation, the world's leading provider of custom high voltage power converters announces the introduction of the V6 high precision, cost-effective high voltage modules on a common platform that includes either AC or DC input, with analog or digital interface (RS232) capabilities.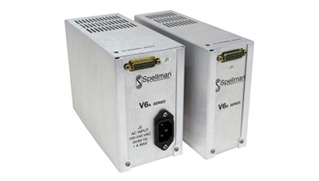 The V6 Series offers output voltages ranging from 500V to 30kV, and incorporates the high precision features of Spellman's 600 Series (replacing the 602C, 603C, 605C & 606C modules). V6 Series units are available in two standard, compact enclosures, either 24Vdc or 100-240Vac input and an ambient operating temperature range from 0 to 50ºC, making it the only 30 watt CE/UL certified precision module with this option on the market.
The V6 Series offers the lowest ripple, the best voltage regulation (line/load) and the lowest temperature coefficient (<50ppm) in the industry.
The V6 Series is ideal for OEM applications requiring a competitively priced, precision high voltage module. The V6 Series data sheet can be downloaded here:
Information on Spellman and their wide range of high voltage products is available by calling +1-631-630-3000, or by visiting their website: www.spellmanhv.com
Spellman High Voltage Electronics is the world's leading provider of custom designed and standard AC-DC and DC-DC high voltage power converters and Monoblock® X-Ray sources for medical, industrial, semiconductor, security, analytical, laboratory, and under-sea cable power-feed applications. With design, manufacturing and service facilities in the US, UK, Mexico, China and Japan, and direct sales offices throughout Europe, Asia and North America, Spellman is committed to supporting advanced system providers and their customers throughout the world.